Submitted by Donna V.
I wanted to share our story about our baby girl, Belle.
We brought Belle home as a puppy in December of 2003 right before Christmas, and I couldn't stop taking pictures of her. She was so beautiful! At first, she was a little shy, but it wasn't long before Belle was loving everyone and sharing her special smile! She loved to smile and shake hands when greeting someone.
Belle was somewhat dainty and really hated to get her lovely, blonde coat dirty. Because of this she always looked so pretty.
Belle had two litters; one in 2005 and the other in 2006. She was such a great mommy! She was always so careful to never accidentally step on a pup. In 2007 she had a false pregnancy. It caused me worry so I had our vet do blood work, a chemistry panel, and a thyroid check. Every test came back normal. Six months later I was surprised when she missed a heat completely.
In September 26th, 2008 I took her to see the vet because Belle was limping, favoring her front leg. The vet thought it might be a sprain and gave her painkillers. Belle seemed to get better.
The first week of October she started limping again so I took her to a different vet. He thought it possible that she was experiencing the onset of arthritis on an old injury she had suffered two years before. So once more, I took her home and gave her painkillers. Again, she was feeling better in a few days.
Belle came into heat October 14th. We decided to go ahead with the breeding since she had been feeling better for about 2 weeks. Even though Husker, our male, showed Belle attention during her heat, he had no interest in mounting her. She did not conceive.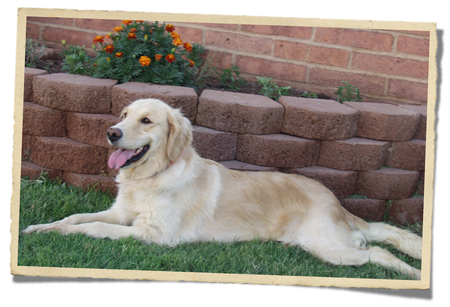 Then in mid-November her limp returned and she began picking at her food. On December 1st she started to look depressed and wanted to sleep more instead of playing with the other goldens. Now, I'm really worried and took her to yet another vet; the third vet to check her. She feared that Belle may have developed a life threatening uteran infection that also prevented her from becoming pregnant. She chose to run another set of blood tests and x-ray her uterus. I prayed so hard when they took her in for her x-rays. When the blood tests and x-rays came back normal, the vet decided it was possibly a stomach virus and sent us home with vet food.
December 11th I decided to take her to a specialist. She was not eating her dry food; only puppy canned food that I warmed in the microwave. She had lost 10 pounds since October and seemed to tiring more each day. A sonogram was done, and he told me the horrible news that I had already begun to suspect. Cancer!! Belle had masses on her spleen and spots on her lungs and limb. He was pretty sure it was Malignant Histiocytosis. I asked if something could be done for her and he said at best she probably only had a few more weeks to live. He said my options were to put her down immediately or to take her home for whatever time remained. I was devastated and heart broken. When we were reunited Belle was wagging her tail and so happy to see me that I had to take her home and spend whatever good days she had left with her. The vet sent us home with some prednisone and painkillers. We stopped at a Mcdonald's on our 2-hour ride home and shared cheeseburgers. She loved it! She continued to be spoiled at every opportunity, and we went on rides to see the Christmas lights at night. She loved the lights and riding in the truck! She gave us 10 more days and every day we cherished every moment we had with her! On December 21st at 5:30 am her breathing became labored, and I knew it was time to let her go over the rainbow bridge. I laid with her and held her until around 8:30 am so I could call the vet to let him know that it was time. We were bringing her to his home to have her put down! I hate that terminology! I held her and talked to her the whole time and at 9:25am she went over the bridge very peacefully. I am glad that I was able to hold her until her last breath. I thank my partner, Howard, for being there beside us. He loved her so very much too! We will miss Belle everyday more than words can say! I will never forget her smile!