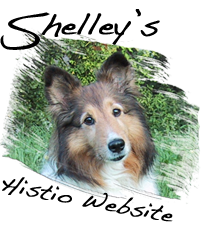 HOME

To the ENGLISH website

Naar NEDERLANDSE website

Contact me
YOUR HISTIO STORY
I am looking for similarities
in all individual cases of
Histiocytic diseases.
I wonder if we all tell our
stories we might come up
with some commonality
between the specific
situations in which all of
our pets got this disease.
So please email me the
details and I'll put your
pets story on Shelley's
Histio Website
UW HISTIO VERHAAL
Ik ben op zoek naar
overeenkomsten in alle
individuele gevallen van
Histiocytose.
Ik hoop dat wanneer wij
onze Histio verhalen
vertellen, wij overeen-
komsten ontdekken over
de manier waarop onze
huisdieren deze ziekte
hebben opgelopen.
Stuur mij de details en
ik zal het verhaal van uw
huisdier op de Histio
website van Shelley zetten.
WARNING !
These stories are all
different. Individual
symptoms, situations
and circumstances
may vary and response to
therapy is not always the
same.
- Disclaimer -
WAARSCHUWING !
Deze verhalen zijn allemaal
verschillend. Individuele
symptomen, situaties en
omstandigheden kunnen
verschillen en de reactie
op therapie is niet altijd
hetzelfde.
- Disclaimer -

HISTIOCYTOSIS IN
OTHER LANGUAGES
German - Hund
Maligner Histiozytose
French - Chien
l'Histiocytose Maligne
Italian - Canis
Maligni Histiocytosis
Spanish - Perros
Histiocitosis Maligna
Dutch - Hond
Maligne Histiocytose
HOME
Benson
Histiocytic Sarcoma
Standard Poodle
Male
August 5, 2000 - July 20, 2012

Story told by LM
My beautiful standard poodle Benson died last Friday and I am completely devastated. He would have been 12 on the 5th August.
He became acutely unwell about 2 weeks ago with lethargy, anorexia and vomiting. Initially the local vet thought he had a drug induced liver failure from an anti inflammatory drug I had recently commenced him on, as he also had hip dysplasia. She put him on IV fluids but he just got sicker and sicker and became very jaundiced and had thrombocytopenia.
I raced him to a specialist Vet in Melbourne where they diagnosed a large tumour in his spleen. They did very high risk surgery to remove his spleen and gall bladder, but he arrested in recovery and they could not resuscitate him .
They have now rung and told me that he had "histiocytic sarcoma in his spleen and liver" and that he never really had any chance of getting better.
When I think back over the past 6 months there were signs he was unwell such as he would get very short of breath after running and didn't seem so keen on his walks, but this would come and go and we put it down to old age.
I still cannot believe this has happened to my beautiful dog and we always looked after him so well – he did have a rabies vaccination when he was 3 years old, as we initially got him when living in England and then transported him to Australia when we moved here back in 2003. He had had cartrophen injections in early 2012 for his hip dysplasia and a few surgical procedures to remove impacted  grass seeds.
Why did this happen to him – it doesn't even seem to be a disease associated with standard poodles. We have buried him in the garden.

To our Histio website in English

Naar onze Histio website in het Nederlands

Be sure to seek the advice of your veterinarian about any question you may have
regarding your pet's health and behavior.
No diagnosis can be done without a veterinarian actually seeing and examining the patient.
DOG OWNERS SHOULD REPORT ALL CASES OF HISTIO TO THE BREEDER AND THE BREED CLUB!