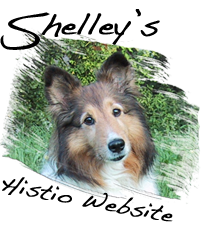 HOME

To the ENGLISH website

Naar NEDERLANDSE website

Contact me
YOUR HISTIO STORY
I am looking for similarities
in all individual cases of
Histiocytic diseases.
I wonder if we all tell our
stories we might come up
with some commonality
between the specific
situations in which all of
our pets got this disease.
So please email me the
details and I'll put your
pets story on Shelley's
Histio Website
UW HISTIO VERHAAL
Ik ben op zoek naar
overeenkomsten in alle
individuele gevallen van
Histiocytose.
Ik hoop dat wanneer wij
onze Histio verhalen
vertellen, wij overeen-
komsten ontdekken over
de manier waarop onze
huisdieren deze ziekte
hebben opgelopen.
Stuur mij de details en
ik zal het verhaal van uw
huisdier op de Histio
website van Shelley zetten.
WARNING !
These stories are all
different. Individual
symptoms, situations
and circumstances
may vary and response to
therapy is not always the
same.
- Disclaimer -
WAARSCHUWING !
Deze verhalen zijn allemaal
verschillend. Individuele
symptomen, situaties en
omstandigheden kunnen
verschillen en de reactie
op therapie is niet altijd
hetzelfde.
- Disclaimer -

HISTIOCYTOSIS IN
OTHER LANGUAGES
German - Hund
Maligner Histiozytose
French - Chien
l'Histiocytose Maligne
Italian - Canis
Maligni Histiocytosis
Spanish - Perros
Histiocitosis Maligna
Dutch - Hond
Maligne Histiocytose
HOME
Bentley
Malignant Histiocytosis
Golden Retriever
Male
03-18-2004 / 03-05-2008

On 18 March 2004, Abby, a golden retriever, gave birth to 11 children. To distinguish one from another, each had a ribbon of a different color placed on their collar. The last of the litter was dubbed Mr. Purple. It was a glorious day.

Lydia and I were given a wonderful opportunity to adopt one of Abby's children. That day finally came. How wonderful to see all these little puppies playing and having so much fun. Each one had their different personalities. There was no doubt when Lydia and I first saw Mr. Purple that he was the one for us.

Out of the blue, we came up with the name Bentley. Lydia held him so lovingly on his first car ride home. Upon arriving, he was allowed to run and play in the backyard and then he was introduced to Inky (our cat). Bentley understood from the start that Inky was the first in the house yet they became instant brothers.

Lydia trained Bentley the finer things in life, like potty training, properly greet people and manners. While I showed Bentley how to sleep on the bed and lay outside on the hammock. Bentley enjoyed long walks in the evening around the neighborhood and at the park where he went swimming. He had in his little pool trying to catch an electric fish that swam in the water. Bentley loved playing in the snow and having visits from his playmates Maxson and Hershey.

Oreo (second cat) then became a member of the family. Bentley and Oreo became brothers instantaneously. Oreo would put his paws on Bentley's back and give him a massage and at night slept curled up by Bentley's stomach.

Bentley had a wonderful personality. All who met him said he was handsome and so loving. Only at times was he stubborn when he wanted to just lay in the backyard and not come in the house.

It was only about two weeks ago that Lydia and I began to see subtle changes in Bentley. At first, he just didn't finish his evening meal. Usually, Bentley would devour the entire meal and lick the bowl clean. At a previous vet check-up, Bentley had weighed 88 pounds. Lydia and I noticed that Bentley was losing a little weight. We attributed that to the fact that Bentley and I were going for longer walks at night and Lydia and Bentley had gone for another walk in the afternoon.

Now Bentley appeared depressed and only ate a little, despite the extras added such as meatballs etc. Our evening walks now appeared to tire him easily and even when it was just for a short time. Maxson even came over for a playdate and Bentley didn't even want to play. The drastic change was evident in just 2 days. It was then that I noticed how pale was Bentley's gums.

Bentley was immediately taken to the Animal Emergency Medical Center. The vet was walking in the hall, stopped and looked at Bentley and immediately examined his belly in the hall and felt a mass in the abdomen. Bentley was rushed in for evaluation. His blood work-up showed him to be anemic (low blood count) and thrombocytopenic (low platelets). The diagnosis was made of Evan's Syndrome either caused by etiology unknown or cancer. Bentley was placed on several medications to include antibiotics, steroids and immunosuppressives. His ultrasound showed an enlarged and abnormal spleen. Biopsy was done and on 4 March, I was told that Bentley had cancer ­ Histiocytosis, prognosis ­ no cure. So that afternoon, Bentley was taken home to be with his family. The Vet told us that Bentley may not make it through the night.

During his hospital stay, Bentley was visited by Allison (breeder), Deb (my partner) + Billy (her husband) (Maxson's parents), Tony (his 'Uncle' who took him for walks when Lyd and I were both at work) and our family Maria + Fabian (Bentley's Aunt and Uncle).

When I brought Bentley home, Uncle Tony stayed with him while I went to St. Barnabas to tell Lydia who had to work that day. Immediately, when Lydia saw me there crying, she knew immediately the results of the biopsy. Lydia came home immediately.

We opened up the couch in the family room and there we spent the night. There on that bed Bentley, Oreo, Inky, Lydia and I stayed. Maria, Fabian with Manny and Lori (nephew and niece) visited and we all spent quality time with Bentley. Bentley initially was so perky then just wanted to rest. After the family went home, we had only a night light in the room. Lydia and I held Bentley closely while both Inky and Oreo layed by Bentley's side.

There we all stayed until Bentley wanted to sleep by patio door and just look out as the moonlight. At around midnight, Bentley wanted to go out to poop and pee. I was about to take him back in the house but he wanted to go for a short walk. We walked only about two house length when he felt that it was time to go back. During that short walk, he stood by my side, as if to say that this would be our last walk together.

Once in the house, we all just rested, Lydia and I keeping a vigilant watch over Bentley. He slept well until around 8am when he began to breathe harder. Now it was time to take him back to the Vet. Bentley could not even get up so Lydia and I carried him to the car in a blanket. We were met by the Vet at the emergency center and Bentley was placed on the movable table and wheeled into a room. Lydia and I were saying our goodbyes as the Vet was giving him medications for his final everlasting sleep.

While Lydia held Bentley, I cleaned and brushed him off. We both were crying hysterically. We had lost our companion, our family member. Bentley was then placed in a box and wrapped in his blanket. Lydia and I then took him to Abbey Glen for his final arrangement. We picked him up a few hours later and now he sits with Bumpie, Paco, and Bandit in their "little homes".

As we were driving there, the heavens opened up and there was a torrential rain. As if all in Animal Heaven were crying for Bentley. Then a part of the clouds opened up and a ray of sunshine broke through as though Bentley was being welcomed to his new home. Just then, we saw a rainbow.

Lydia and I remembered the story of the "Rainbow Bridge".
The Rainbow Bridge is a place where all animals gather. Where the food is plentiful, water is clean and they run and frolic together all day long. Then one day, when their human companions pass this way, one animal's ears will hear a familiar voice, look up and rush to the side of their best friend. The two would walk together over the rainbow bridge to be with each other forever.

Here while we were driving was proof that Bentley was already on one side of the bridge playing with Candy, King, Paco, Bumpie and Bandit. All waiting for that special day when their human companions (Lydia and I) will join them.

All of our wonderful animal family members have given their unconditional love and have asked for so little in return. They are our loved ones and will be in our hearts forever.

Peace and Love, Our Dear Bentley

Lydia and Charles

To our Histio website in English

Naar onze Histio website in het Nederlands

Be sure to seek the advice of your veterinarian about any question you may have
regarding your pet's health and behavior.
No diagnosis can be done without a veterinarian actually seeing and examining the patient.
DOG OWNERS SHOULD REPORT ALL CASES OF HISTIO TO THE BREEDER AND THE BREED CLUB!