Submitted by Joanne G.
December 17, 2009
Bobby is our 11½ years old Chihuahua. I got him through referral from the British Chihuahua Club rescue scheme. I was told his owners were moving abroad and did not want to take him with them and so he was handed in to the famous Dogs home at Battersea in London.
I was told he was 5 when I got him in 2003.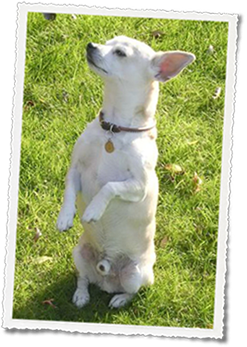 He has always been a quiet, calm little dog, asking for love in an unassuming way.
He was absolutely fine up until August of this year when we noticed that he was losing weight, and was a bit more lethargic than normal, we put that down to old age and increased his diet.

In October we noticed his tummy seemed swollen and hard to the touch, but he still had a good appetite and there was otherwise no other changes.

Blood tests revealed anaemia, but all other functions were normal. However, x-rays revealed a large mass and after referral to a veterinary hospital for possible surgery, Bobby had an ultrasound scan and biopsy which showed he had malignant histiocytosis and therefore surgery was not an option. The tumor was on a lobe of his liver and has spread to the spleen. It presses on his stomach which cannot dilate properly, and has caused him to be a bit "roach backed" in appearance now.

I am devastated that I have to watch my little boy slowly deteriorate, please let it be slowly, and wish I could do more for him.

He has been prescribed 2.5mg of Prednisolone daily but no other treatment has been prescribed. However, after looking things up on the internet, I found an article saying that Maitake mushroom supplement had a positive effect at fighting tumours. The only place I could get it was from a herbal medicine supplier in the USA.
He has been taking 24 drops in his food per day since December. In addition he has milk thistle supplement which supports liver function to counteract the detrimental effects of the steroid tablets. I have discussed this with my vet who says that I should try anything that may help to prolong his life a little bit.

I don't really know what to expect for the future for him, I have been told his prognosis is about 4-5 months.
UPDATE March 4, 2010
Bobby is at the moment well in himself, has a healthy appetite and is enjoying the Spring sunshine, as he does love to sunbathe!
He has trouble walking far these days as the mass inside, the size of a small mango, makes him waddle, a bit like a pregnant lady. He can still get upstairs but prefers to sit in front of the bottom step and let me carry him up :)
UPDATE April 15, 2010
I just thought I would write to tell you that little Bobby lost his fight yesterday.
He enjoyed a good breakfast in the morning and even shared some of mine!... He seemed to lose coordination later that day and found it difficult to stand or walk.
He didn't suffer, and went quietly away on his bed with me cradling his head in my hands.
I was grateful that he went that way rather than me having to make any difficult decisions.

We found a sunny spot for him in the garden.