Buddy's story told by Pam
December 13, 2009 which was a Sunday, I had been gone for a few hours for a family Christmas celebration and when I came home all seemed to be well. Noticed while I was gone, Buddy (my then 7 year old Golden Retriever) had found some sugarless gum and chewed it up! The cat had also knocked a glass ball off the Christmas tree and rolled it into the dining room where it shattered against the brick of the fireplace. After being home for a few hours, about 8:30 9:00 PM, I was eating supper and always share with Buddy but he refused and then he went and laid behind a chair and would not come out which is totally unusual for him. He became very lethargic and drooling so I looked up sugarless gum on the internet and called my vet's emergency number and she recommended to call the dog poison control. At first no one was overly concerned as they related that he would have had to eat an awful lot of gum to really cause the kind of problems I was describing. A short time later I called poison control again as he seemed to be getting worse. They asked if there was anything else he could have gotten into and I told them about the glass ornament but was pretty sure that Buddy would not have eaten any of that. They were concerned that maybe he had gotten some of the broken glass and encouraged me to take him to the ER so I did. The closest animal hospital open that late at night on a Sunday was 75 miles away so I called my daughter in law to go with me. It was almost midnight when we arrived. By the time we got there Buddy could barely walk and actually fell when he tried to walk up to the place. He had laid on the seat the entire trip there which was a first for any car ride he'd ever been on as he is an avid window watcher.
They did an x-ray and saw a huge mass that was bleeding internally and was beyond their scope to be able to deal with so they sent him across town to a University teaching hospital ER. By the time that he came o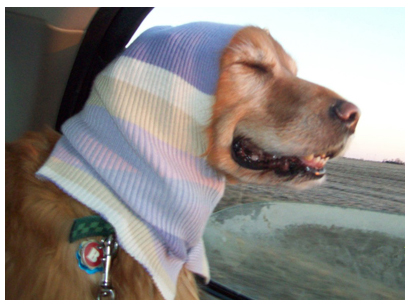 ut of there he could not even walk any longer due to the loss of blood and they had to bring him out on a "stretcher" and put him back in my car. I took him to the University teaching hospital where they kept him over night so that they could get an IV going right away and then do some other extensive testing. It just about killed me to have to leave him and was not sure he would even make it through the night.
The next morning after sleeping for a few hours I called first thing and they recommended he be put to sleep due to the massive tumor on his spleen that was bleeding that was likely cancer. I did not want him to be put to sleep alone so I headed back the 75 miles to the University hospital to say good bye and to be able to hold him while they put him to sleep. They brought Buddy in and he was so happy to see me and he seemed to be so much better as they had been able to get an IV going and got some fluids back in him. They gave him his "last meal" which I did not think he would be able to eat as he had not eaten the night before. He ate like he always does, with lots of enjoyment. I could not believe the difference and decided to ask to talk to one of the surgeons.
After talking to the surgeon and finding out that there was a 20% chance that it was not cancer or that it could be one of three different cancers all with different outcomes, I opted for the surgery and taking that chance. Even with a full stomach they rushed him into emergency surgery in which they removed the tumor and his spleen and I think they said about 2 quarts of blood that had bled out from the tumor. Those four days waiting for him to be able to come home were the longest days probably for him as much as for me.
What a wonderful Christmas miracle he was and has been for me! The first thing he did when he got home was to find his "Barney", a stuffed child's toy that he has had since he was a baby and carries around with him every single day and sleeps with as well! He even played a little bit which considering he was cut open from his sternum to his penis, was pretty amazing! It took a while to get his pathology back and the news was not good. His prognosis was not good even with chemo. The doctor told me that he would probably only live 2 - 6 months without chemo and maybe 6 - 12 months with it.
Buddy has always had a very touchy tummy and couldn't even keep down the pain meds/antibiotics after the surgery and I did not want to put him through any more hell than he'd already been through and it did not seem like chemo was gonna buy him much more time so I opted not to do chemo and to just enjoy him and let him be healthy and happy for what time he has left. That was 20 months ago and bless his heart, he is going strong (I know that can and will change in a heartbeat when his time comes). I appreciate every single moment of every single day with him and realize that he is probably an exception as there is a 0% survival rate beyond 1 year without treatment and 2 years with treatment according to what I have read online.
This dog is not just a pet, he is a part of my family and he is so very much loved which I think helps his survival rate as well! He wants to live! I live every single day like it might be his last. He gets to go for a ride every day rain/snow, sunshine does not matter. He loves his ride second only to his love of food. I have even made him his own little "hat" to wear when its cold, raining, or snowing so that it protects his ears. I also thank God every day when I walk in the door that he is there to meet me and I just pray that when his time comes that I will be able to be there to hold him as he goes. I hope that this information helps.
UPDATE November 8, 2011
When I came home from work on Tuesday night October 18, 2011 Buddy did not meet me at the door right away like he normally does. He came in the kitchen dragging his back end and wagging his tail like he was so happy to see me. I realized right away that he couldn't move his back legs. Since he had had surgery on both back legs I wasn't sure at first what was happening but when I checked him out I realized that he could not move his entire back end. My heart just sunk and I knew that this was the end. I got his sling from when he had the surgeries to try to hoist up his back end and help him get into bed but it just did not work. Buddy was a big guy and too heavy for me to lift so he dragged himself into my bedroom. I tried to get him on the bed because he loved the waterbed and I figured if he was going to die soon he should be comfortable. We just could not do it, so he laid on the floor at the foot of the bed and I got my pillow and a blanket and laid there with him all night long and just held him and kept reassuring him that I was there.

My son came over the next morning and lifted him into the bed for me. I called the vet as soon as they opened and let them know what was happening. We discussed that he might have a tumor pressing on his spine that would soon rupture and it would only be a matter of time before he would just bleed out internally and just go to sleep without any pain. The vet said that he most likely was no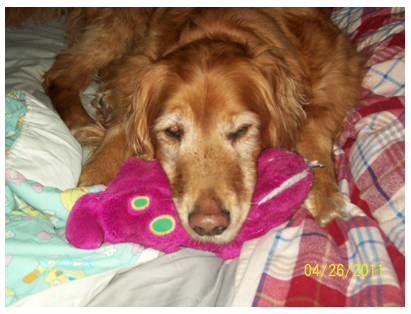 t in any pain but he still can't move his back end and it may take a few days for him to pass unless of course he starts having pain and then I will have to euthanize. I stayed beside my Buddy that entire next day and night and Thursday as well. I know people say that dogs don't cry but Buddy had clear "tears" that came out of his eyes on Wednesday, maybe you could say that his eyes were just watering, me, I think he was crying with me.

On Friday Buddy just seemed to be so miserable and was not eating and had started peeing a bit in the bed which made him very uncomfortable and I think upset him cuz he was awesome about not pottying in the house and even though I told him it was okay, you could just tell it just wasn't ok with him. I had some cloth diapers that I wet with warm water and just kept him as clean as dry as I could. Later that day I went to the vet and got some more tranquilizers so that he just could be more peaceful. At 10:00 Friday night I just knew that Buddy was going to hang on for as long as he could even if it meant he was miserable and his eyes were so sad and he was so lethargic so I made that dreaded call to the vet and asked that she come the next day and euthanize him so that he would not be in any pain or discomfort just waiting for the tumor to grow large enough to burst. We had thought based on the first tumor that he would most likely pass pretty quickly and peacefully when another tumor broke open so I thought it would be just a day or two. After 4 days of being miserable and not seeing that he was going anywhere and numerous talks with the vet, decided that it was more than enough for him and not humane to keep him alive like that any longer.

Saturday October 22, 2011
22 months and 9 days post-surgery and my Buddy is gone. He actually ate a whole bowl of food and a handful of treats which was more than he had eaten all week and of course made it even more difficult to think that I was making the right decision to euthanize him. About 11:30 Saturday morning his vet come to the house to euthanize him. That was the last thing I ever wanted for him, I know it's probably unrealistic but I really just wanted him to be able to die peacefully in his sleep with me beside him. I will tell you though that I climbed right into that bed behind my big old Buddy and "spooned" him and held him tight hugging and holding him and talking to him while he passed from this world into the next.

I thought I was done crying rivers of tears but I can't seem to stop. He was just so much a part of my everyday life and routines that it just doesn't seem right to come in the door and not have him greet me. I am so very grateful for the 22 months and 9 days that I had with him after the surgery and every day I am so glad that we went ahead and had the surgery instead of euthanizing him in December 2009 when he was first struck with this horrific cancer. He is and will be so sadly missed. He was an amazing part of my life and gave so much love.