Little Casey was always a little trooper. When he was three and half years old he was diagnosed with a spinal condition which left him partially paralysed. Casey was on cortisone for this condition to help with the inflammation. Because Casey was so young I was not happy with him being on large doses of cortisone. I was not happy with the medical team that was looking after him, and to cut a long story short we decided to try Chiropractic and Acupuncture. We found a wonderful animal Chiropractor. Casey responded well to this treatment and was pain free and all the inflammation had gone, we were able to slowly wean him of the cortisone. Unfortunately he had permanent damage to his spine and was unable to walk and would crawl everywhere or I would carry him with me in a baby harness (he loved being so close to his mum all the time). But he really wanted to play and chase his brother Nikki. The Chiropractor suggested we get Casey a little cart which we did and that was the start of Casey's new life. He took to his wheels straight away and he loved them. There was no stopping him now! He would chase his brother Nikki, run over everyone's toes, and do spinouts HE WAS SO HAPPY. Casey could not go to the toilet on his own - my husband Lyndon and I had to help him. We had to express him every few hours. With anyone, be it human or animal that is paralysed it is important that they empty their bladders frequently because they are prone to bladder infections. Casey only suffered one bad bout of infection; he had stones in his bladder and had to have an operation to remove them. That was in December 2002. He did get a couple of minor infections after this, so our vet put him on Rilexine 75, which is an antibiotic purely as a preventive measure. He was also on a special diet - Hill's Prescription Diet - Canine c/d. He remained on this until shortly before his diagnosis of MH.
Casey was always happy and loved his food. He was very cheeky and would always let us know what he wanted - 'feed me', 'take me to the toilet', 'I want cuddles and kisses', 'I want to go to bed' (which was our bed, of course) and he loved his brother Nikki to bits.
His brother Nikki was diagnosed with Cushing's disease in December 2003 - and so another journey had begun. The next six months were very difficult treating Nikki with regular visits to the specialist. But we got on top of it and Nikki was doing well on medication. All through Nikki's long illness Casey was a great comfort to me. We thought we were getting on top of things!
All of a sudden in June 2004 we noticed Casey starting to wheeze and had a slight cough and was panting a lot. Nikki also had a slight cough too and we thought they may have a cold. Casey seemed to be getting exhausted when walking in this wheels and having difficulty breathing. We also noticed loss of muscle tone on his back and his spine was protruding. He always had loss of muscle tone in his back legs because of his paralysis but it was getting worse. He would also lose his balance and fall over. Sometimes he didn't have enough energy to climb onto my pillow (his favourite place to sleep, nice and close to his Mum).
.
18th June 04 - I took Casey to the vet, our usual vet was not on so we saw another vet. He thought Casey had Bronchitis - he gave him an injection of cortisone and said this would open his airways and help him breath better.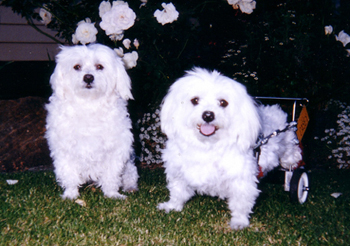 25th June -one week later - Casey was still having trouble breathing and panting a lot - I was not happy - so we went back to the vet and lucky our normal vet was on. He said he could hear congestion on the right side of his chest and also said that Casey had a slight heart murmur. The vet asked us to come back the next day to do a chest x-ray - which we did and it showed right side congestion (no signs of anything else). He thought it could be the start of Congestive Heart failure. He said to stop Casey's normal antibiotic that he takes for his bladder and start him on Amoxyclav (antibiotic) half a tablet twice a day. The week that followed Casey was still not well, he was still having trouble with his breathing and could not get comfortable. All the time we were thinking; if it was congestive heart failure then he should have a heart ultra sound to confirm this.
5th July 04 - Still not happy with Casey's breathing - so back to the vet. The vet said when he checked his breathing and listened to his chest it did not have the normal sound of congestive heart failure. He thought it could 'just be an infection'. I asked him to do a heart ultrasound but the machine was not working and had been sent away for repair and he didn't know when it would be back. He wanted Casey to stay on the Amoxyclay and started him on Prednisolone 5 mg.
Lyndon had noticed, when he was expressing Casey, that he seemed to be losing more muscle tone around his rear end. He was also tender on the right side of his body and would have a little nip at us when we tried to express him.
15th July, 04 - back to the vet for check up - still no improvement with his breathing, he was exhausted trying to pull his wheels around, even going to the toilet was hard for him. He was slow with his eating and drinking. The vet started him on Frusemide (diuretic) tablet twice a day.
22nd July, 04 - Back to the vet. The vet wanted him to stay on the Frusemide for another week. But he still was not well, I asked again about the heart ultra sound - and it still wasn't back. The vet still thinking Casey had either Congestive Heart failure or 'just an infection'.
Casey didn't seem to be himself and we think that all the antibiotics he was on were not agreeing with him. He was slow when eating and drinking, he was exhausted trying to pull his wheels around, it was even hard for him to go to the toilet, and he was constipated. He was hanging his head a bit and looking sad, but he did eat (probably because of the prednisolone).
I was getting worried now, Casey didn't seem to be responding to the antibiotics and there was only a small improvement with the Frusemide. I asked our vet to refer us to the same specialist that looked after Nikki (which is an animal specialist referral hospital) so they could do the heart ultrasound.
26th July 04 - We had our appointment with Dr. Liz at 11am. After the consultation with Liz she ordered chest x-rays, blood tests and the heart ultra sound. We were there most of the day! The x-ray showed a growth on Casey's right lung, she told me she was pretty sure it was cancer. This is why he was not responding to the antibiotics. I was devastated. She did a fine needle aspirate (FNA). I had to ring the next day for results.
27th July 04 - The aspirate sample was insufficient - and the blood tests showed that there were changes in his liver - She thought Casey may have lymphoma cancer.
28th July, 04 - Casey had an abdominal ultrasound to check his liver - which showed he had multiple large lymphodes in his liver. She did another aspirate (FNA) but it came back inconclusive. Now he had to have a biopsy done.
30th July, 04 - Friday - I dropped Casey of at 8am for his biopsy - I cried most of the way to the hospital - I was really scared for little Casey. I was worried about the anaesthetic - when Casey was first diagnosed with his spinal condition, he had to have anaesthetic to have a procedure done and he went into a coma and we nearly lost him - but being the true trooper that he his he came back to us.
When the nurse came out to take Casey to prepare him for his biopsy, I couldn't let him go. He just cuddled into me like he always does (like a little baby), I felt so sad I was crying like a baby. The nurse finally took him from me. I cried all the way home!
Lyndon and little Nikki were waiting for me with open arms and paws. We had a long day ahead of us. Finally the surgeon phoned and told me that Casey came out of the anaesthetic OK. She said there were lots of very large lymphodes in his liver. She took biopsies of the lymphodes and a piece of his liver also. (Now it was a waiting game until Monday before we got the results.) Because of Casey's spinal condition and special needs the specialist let me bring Casey home that night. She thought that we would be able to give him the special attention that he needed.
He was in a lot of pain from the operation - they had a special morphine patch on him to help with the pain. We could not pick him up or hold him; it was too painful for him. (It was painful for us to see our baby in pain). Our darling Nikki was trying to comfort all of us he was really concerned for his brother. The weekend was very long - we all just laid around and tried to keep little Casey comfortable. Lots of hugs and kisses!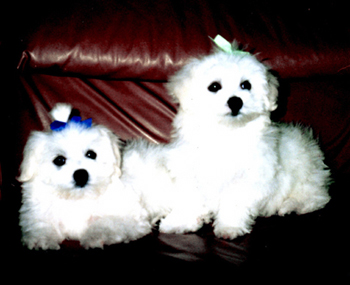 Monday 2nd August 04 - It was confirmed today - Casey had a rare and very aggressive cancer called Malignant Histiocytosis and there was no cure for it (how could this be happening to our little boy- it's just not fair). Our specialist referred us to an Oncologist, Dr Angela - for palliative care.
4th August 04 - We all went as a family Mum, Dad and Nikki to Casey's appointment with the Oncologist. While we were waiting for the Doctor, Nikki started coughing and was a little uncomfortable. We thought maybe he thought he was seeing the doctor - after all he had been to this place many times!
The oncologist suggested a 5 month protocol of chemo for Casey. She was honest with us and said it would not cure Casey, but would give him more time with us. She thought he would only have about 4 weeks without it. During this whole consultation I am crying like a baby. I cannot believe that Casey doesn't have much time left with us. We decided to start the first lot of chemo that night in the form of 2 tablets called CCNU as well as prednisolone. Casey would take the 2 CCNU tablets that night and continue with the prednisolone every day. We were given special gloves to administer the tablets to Casey (because of the toxicity) we were freaking out now. Were we doing the right thing? We were sent home then with our 5 month protocol. Casey had an appointment in one week for his first lot of blood tests to check his white blood cells.
5th August 04 - Casey is having a good day today - maybe the CCNU is helping - his breathing seems to be a little better (is it all in our minds? Casey only had the tablets the night before). Little Nikki was not well today and collapsed.
The next few days Casey was doing well he was happy and eating, breathing much better.
Nikki was not doing very well - he collapsed again and we rushed him to our vet - he stayed there all day on oxygen, he was allowed to come home that night. Nikki had not been well because of his disease and was back and forth to the vet.
11th August 04 - Back to the specialist today - both Casey and Nikki have appointments. Casey had his white cells checked and they were good. The specialist was happy with Casey and so were we! Little Nikki wasn't so good. After treatment for Cushing's Disease, Nikki developed Addision's disease and also had heart problems and trachea problems, which we thought we had under control. But now he had problems with his breathing. Nikki had to stay in hospital that night and have an ECG and chest x-ray.
The next three days little Casey was really good - eating, drinking, happy (probably because of the Prednisolone). Little Nikki spent these three days in hospital - on lots of medication. On the Friday night I went to pick up Nikki (I wanted my boy home). When Nikki came out to me he didn't recognise me! That was it, I lost the plot, I could not control my crying. The doctor said it was the medication he was on! I didn't bring him home that night. I picked him up the next day and he looked much better when they took him off some of his medication. But he still wasn't himself.
The following week Casey was still doing well - Nikki was not well at all, I took him back to the specialist and we discussed his quality of life - Nikki was not happy and stopped eating. He was not getting better! We had to make the decision to put our darling Nikki to sleep. He had, had enough, we could not put him through anymore, no more medications, no more trips to the vet.
Our darling NIKKI passed over to Rainbow Bridge on Saturday the 21st August, 2004.
The next couple of weeks Casey was very quiet and sad, we don't know if it was because he was missing his brother or the cancer was taking hold (probably a combination of both). We would take Casey over to visit his Nanny and Poppy (my parents) which he used to love, but now it was to tiring for him making the trip in the car. It took too much out of him. He would be panting and was very uncomfortable.
The end of August he was having restless nights and one morning he didn't eat all his breakfast (we thought this was a bad sign). Then the next couple of days, he had good days.
Now we were starting to rethink about the chemo. Were we doing the right thing? Was it fair to Casey to put him through it? After reading the protocol for the second stage of chemo and all the side effects - nausea, vomiting, diarrhea, constipation, lethargy, his white cell count could drop below normal limits, then the body cannot fight off infections. All these symptoms were considered an emergency, and he could spend a lot of time in the hospital on drips amongst other things and being very sick. What ever time Casey had left, we did not want it to be in hospital (after seeing what our darling Nikki went through the last two weeks of his life in and out of hospital). We decided we would not go ahead with the chemo.
2nd September 2004 - We kept our appointment with the Oncologist. After her examination of Casey she agreed, not to go ahead with the chemo. Casey had lost more muscle tone; his liver was larger than his last examination. Casey was still taking Prednisolone and she wanted to start weaning him off it. There was no more she could do for our darling Casey. I asked her how long she thought Casey had left with us, she said she would only be guessing but around 4 weeks. We were shattered!
Casey was having trouble eating. It seemed like his food was getting caught in his throat and he was having trouble swallowing. Lyndon started to spoon feed him. One night Lyndon was feeding him and he started to choke and vomited and was bringing up white thick mucous. It was like foam. It was getting caught in his throat and Lyndon had to put his fingers in his mouth to clear it (otherwise, we are sure he would have choked on it). Our thoughts were that maybe the cancer had gone to his throat (we were only guessing) but we were scared. Casey perked up after that and had the rest of his dinner. (He always loved his food)
9th September 2004 - I took Casey to see our vet Dr. Cam - I just wanted her opinion - were we doing the right thing for Casey? Did she think he was in pain? Would we know when it was time to say good-bye? She answered all my questions honestly!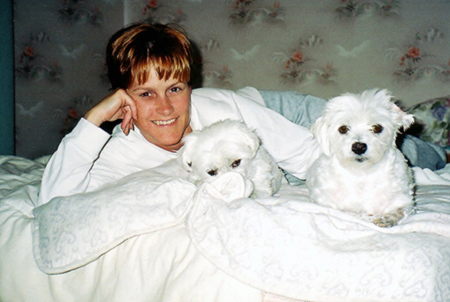 12th September, 2004 -Casey was almost weaned off the Prednisolone and we could tell he was starting to deteriorate. He would go and sit on his own in the kitchen, he could not get comfortable, and he was only just eating. He started to wheeze again and was having trouble breathing.
The next few days he was not well, he seemed sad, he was hanging his head a lot. He was now getting very exhausted, even trying to express him to empty his bladder and his bowels - it was so hard for him. His breathing was rapid and his tongue was turning blue. He was doing it tough! We tried to comfort him with lots of hugs and kisses and telling him how much we loved him.
Saturday 18th September, 2004 - Somehow I think we all knew this was going to be our last day together. Casey and I started our day sitting on the front veranda on his favourite blanket enjoying the sun. Lyndon came and took some photos of us. I took Casey in my arms and we walked around the garden together, I kept telling him that he was a good boy and how much I loved him. He was cuddling into me like he always does nice and close and listening to every word. Later we all went inside and it was Dad's turn to cuddle and more photos.
That night he seemed unsettled, so Dad took him to bed - but he didn't want to stay there. He came out and sat with me for awhile. He looked sad and he kept looking at me. I took him to bed and he could not get comfortable. He was wheezing, having trouble breathing, his heart was racing - I checked his gums and they were very pale - I knew his oxygen levels were not good! He was suffering! We could not let him go through the night like this - we had to get him to the vet - 'it was an emergency'.
Casey had lost his battle with this horrible cancer. He was put to sleep, wrapped up in his blanket in my arms, and the last words he heard were his Mum and Dad telling him how much they loved him. He was now going to be with his brother Nikki at 'Rainbow Bridge'.
In summary we wonder if over the past 11.5 years we had Casey did he have too many toxins in his body: i.e.: he was immunised every year, had big doses of cortisone over his life time, antibiotics for his bladder infections, heartgard for heartworm. Could this have contributed to him getting Malignant Histiocytosis? We don't know! Hopefully Casey's story and all the other wonderful pets on Shelley's site will help Mo.
Lyndon and I would like to thank Mo for Shelley's homepage. Thank you Mo for taking the time to help others who have pets with this horrible cancer. Thank you for your honesty and support.
In Loving Memory of Casey and Nikki Bond
We love you and miss you terribly.
Mummy and Daddy,
Robyn and Lyndon Bond