I was moved by Jack's story (see in menu left). I had a Golden Retriever name Charlie and he started with the same symptoms as Jack's. He lost a considerable amount of weight very quickly and that is why we brought him to the vet for a check up. Looking at Jack's pictures is like I am looking at my Charlie. He is identical; they could be twins, the spot on his tongue and the way he sits.
My "CharlieMan", as I called him, was born Dec, 25 1995 in Coram (Long Island) NY. His mother was from Coram and his father from Massapequa, NY. I have a knot in my throat talking about him. He is the most loveable, gentle, and smart dog that I have ever seen.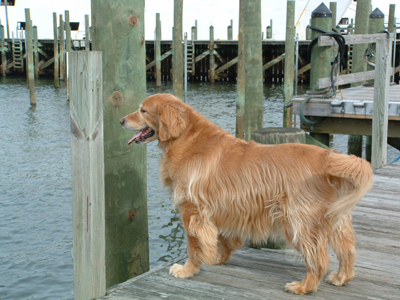 May 17, 2005
I am devastated by his illness. I read the story about Jack and I swear it's all about Charlie. He was also diagnosed with Histicytic Sarcoma on Saturday May 14, 2005. His doctor recommended taking him home and enjoying the few hours left of his life, but nothing is enjoyable when you know part of your life is dying. It is now the 17th of May and Charlie is still with us and it appears he is putting in a valiant fight. He is still eating and drinking and able to stand. When we see that he is beginning to truly suffer, we will then make the decision. I pray that I would not have to make the decision and that he would pass away peacefully in his sleep.
Every night I stay up late, I make believe I am watching TV and I make sure every one has gone to sleep. I sit down with Charlie and talk to him. He comes to me and puts his head on my lap. I pat him gently and share a cookie or two and we enjoy each other's company.
Charlie loves water. During the summer time when my kids are swimming, he is with them at the side of a pool. They make believe; they are drowning and calling his name at the side of a pool. He would run to them and grab their hand gently and trying to rescue them. He left us with such an impression that is unforgettable. He will be missed.
October 2005
The hardest thing for me is to remember his last day. Charlie has left us.  He gave us an additional week to give him our goodbyes but in the end we had to give him the dignity of leaving, while he was still able to walk.  The doctor had given us a day at best but Charlie gave us a week.  That week he still continued to eat his meals and was able to walk and stay alert.  During the evenings we could hear the heavy breathing and the sighs of pain.  If he moved from one position to another you could hear the moaning.  On the following Saturday, Charlie was visibly in more pain.  He didn't get up much and that evening led us to make a painful decision to put him to sleep the next day.  The following morning, my son and I took Charlie to the vet.  My daughter and wife stayed back and watched him walk out of our home for the last time. At the vets office he rejuvenated and was pacing back and fort to my son and I. Eventually, he settled down and sat down in front of my son and looked at him for a while. Vet provides us a blanket and he sat down along with me and my son. He placed his face in my hand and he was watching my tears, when the vet gave him the shut. I miss him. I don't think any animal can ever replace him. He was THE BEST. I told my wife he died peacefully and that is what we wanted for a dog who gave our family many years of love and happiness.
It is now October and Charlie has been gone for five months now but there isn't a day we don't talk about him or remember him.  There are times we see a Golden in the street and you think, "Wow he looks just like Charlie!" But in our hearts, there will never be another Charlie.  He loved the cool air in the autumn and he would run in our backyard and I could see the leaves flying all around him. This was his favorite time of the year.........
In Loving memory of Charlie
Ben H.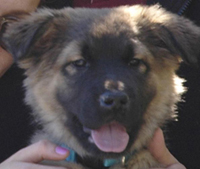 We now have a new addition to our family which we adopted from the North Shore Animal League.  His name is Rocky and he certainly is a fighter.  He was adopted a month after we lost Charlie.  I really think he is a gift and I tell you why.  During Charlie's last visit to the vet; they had shaved a portion of both of his front legs to prepare him for an IV and for any meds necessary.  That whole last week that Charlie was alive, he would lick the area and tuck his legs under him almost as if he didn't want to see them.  It was obvious that it bothered him or that he just understood.  When we got to the North Shore Animal League that particular day, we were interested in adopting a puppy and there were no more puppies left that day.   We had come too late in the day and most of the puppies had been adopted.  We were told to come back another day, in the morning, if possible.  As we were leaving, I was speaking with the vet in the back and across the room, I saw him coming out with a small Shephard mix puppy.  This puppy had been under their care because of pneumonia and bronchitis.  They were going to release him for adoption the following morning but wanted to know if I was interested in adopting him.  As he turned him towards us, I noticed the reason we had to adopt him.  On his two front legs, in the same exact spots that Charlie had been shaven were the same exact shavings.  It was as if Charlie had sent us a sign to say pick him.  Needless to say, he came home with us and is growing up to be a wonderful new companion.
Rocky will always stand as a reminder to me that Charlie sent us someone to love.