Submitted by Neva G.
Diana has asked me to write a note about the progression of Charlie's disease' and the effects it had on her. I was with Diana when she picked Charlie up I held this 25lbs squealing, squirming bundle of frightened puppy while Diana drove us through the horrible LA traffic. I was a wreck, I wanted her to be happy and cuddly, and poor Diana was worried about the baby she had already fallen in love with but she had to drive. I finally took off one of my slippers and gave it to her to play with and once she had that she quieted down a bit and that gave me the chance to pet and kiss her and fall in love with her myself. After Diana retired and had to make changes in her life, she asked me if Charlie could come and live with my husband and me. My husband has never wanted a dog, so I was unsure if he would agree, when he said yes I was bouncing off the walls. Not only was I going to have a dog but I was going to have Charlie and not only would I have Charlie but I kne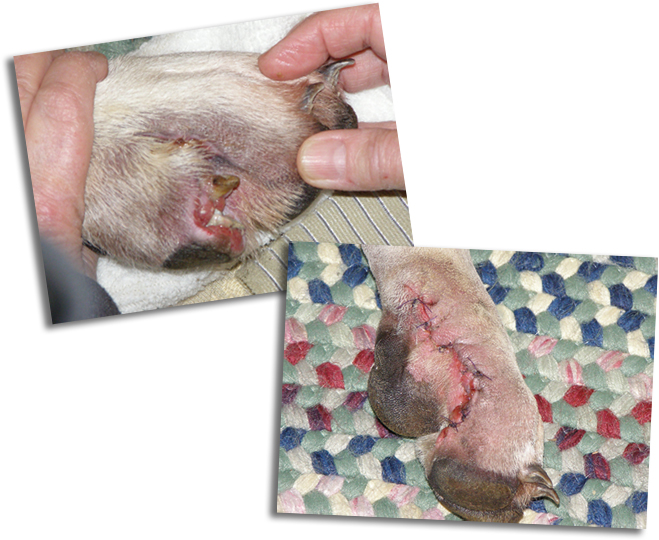 w I would be seeing more of Diana. That's a win, win situation
Charlie came to live with me on December 14th.
December 15 I noticed Charlie limping. Checked her foot. I could see no evident evidence of a reason why. The next day Diana saw her whole leg was swollen, so we took her to the vet and he said bacterial infection but no noticeable injuries. He put her on a regimen of antibiotics. After a few days the antibiotics didn't seem to be working so he put her on stronger antibiotics, and by this time started to notice a sore around the toenail. We started a regimen of cleaning the toe several times a day with peroxide and an antibiotic spray the doctor gave us. We also kept her foot covered with socks and some mittens we purchased. Nothing was working. I could visibly see the sore eating her flesh away from her toenail and it was eating it away at such a rapid rate it was really frightening. Charlie was also vomiting not on a continuous basis but enough that we didn't like it. She also had diarrhea. But it was the flesh eating away that was so scary.
We took her to the vet again even though we didn't finish the antibiotics. They took one look at it and there was no doubt that there was going to be some sort of surgery. It was supposed to be a biopsy but ended up with her toe being amputated. She required a lot of care but she was a trooper and let me dress her toe twice a day. She didn't like it but she allowed it and would occasionally give me a kiss while I was doing it. It brings tears to my eyes thinking of it she knew I was trying to help her. I used peroxide, antibiotic spray, and oral antibiotics and she had tromadol for pain.
This whole issue took about a 2 month period to resolve. After approximately 4 months of a healthy happy baby I saw her hair standing up on her rear. There was a rough spot. I kept a close watch on it and cleaned it with peroxide and put some neosporin on it. The rough spot turned into a sore and I noticed it was seeping a bit, so I pulled out the big guns and started a regimen of peroxide and a antibiotic spray and a antibiotic cream. This continued for about a week, and in the meantime I started noticing other little sores popping up. I called Diana who was staying with her daughter, and told her I thought Charlie needed to go to the vet. She drove the three hours that day and the next day we took her in and the vet put her on antibiotics (oral). In the meantime I'm continuing to clean the sores, and by this time the original sore on her rear was a large deep sore, and when I touched it pus would pour out. It started to be a yellow pus then turned into a green foul smelling thick pus (sorry about my description but this is what it was). We then went back to the vet and he gave us a stronger antibiotic. I'm trying to be as accurate as I can but this all took place in a 2 week period. Within three days we could see this wasn't working and Charlie was losing weight, and sleeping late with me. That scared me more than anything.
We took her back to the vet and he wanted to do a biopsy on her sores, rough spots and the tiny eruptions. There were sores all over her body in various stages of growth. After the biopsy we got the report that it was cancer. At this point we realized this was it, but I must say in my heart I was determined we were going to be the exception and beat it. I can't tell you how much time I spent cleaning sores, and how good Charlie was about letting me fuss over her. One night about one in the morning Charlie woke up and started crying and went into the bedroom where my husband was (I was sleeping on the couch with her). I went after her and she turned around and caught her collar in the knob on the dresser and yanked the drawer out when she tried to get away. I was able to calm her and finally she went back to sleep. I realized at this point she was really rapidly losing weight so I started loading her with food. She then started to decline her food, so I would put all kind of special food in her regular food and found that if I sat with her and kind of fed it to her by hand she would eat it. I was determined that this horrible disease wasn't going to take our baby but the only one I was fooling was myself.
After approximately five days of the drawer incident we (Charlie and me) were laying on the couch. All of a sudden she came out of a sound sleep and started crying and running around the house looking for a hiding place. My home is small and there is really no such thing as a hiding space. While she's running around crying I'm trying to calm her, and then she tried to get up on my bed. She had hip problems so she was able to get the front of her body on the bed but not the back. I picked up the rest of her to the best of my ability and between her and me she was able to get on the bed. And that's when I realized that she didn't know who in the hell I was or where she was. She had a blank look in her eyes and was scared to death. I laid next to her and petted her, and talked to her, calmed her down and in about 1/2 hour of being somewhere in her head, and being frightened, she came back. She gave me kisses and let me hug her and wanted off the bed to go into the living room and her couch again. She went into my husbands office and let him know she was OK, then back to the couch and back to sleep.
I then called the vet, and thank heavens the vet I liked the best was on call that night. He told me this was the time, the cancer had affected her brain. I called Diana and told her about what had happened, she jumped in her car and came right up even though I didn't like her driving at night. She came and Charlie was so happy to see her and gave her lots of loving but after that she went to sleep again. She was exhausted from her episode.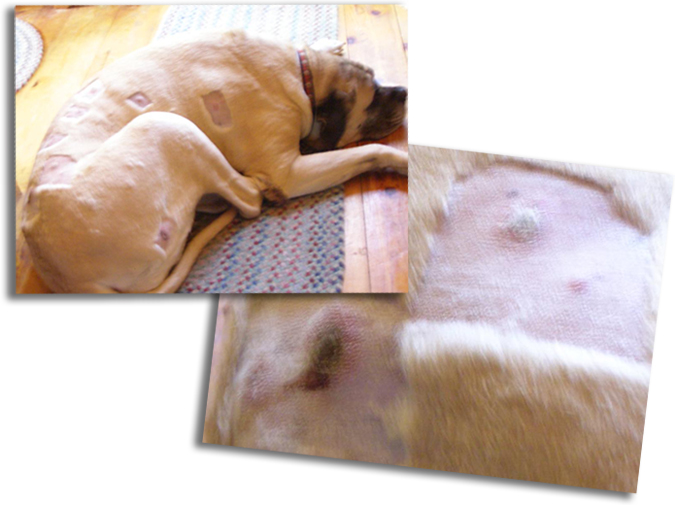 In the meantime Charlie was having a continual diarrhea, it was foul smelling and her urine was different than you would expect. It seemed as though it was of a thicker consistency and it had an odor that was not normal at all. Also throughout all this, even though I was getting Charlie to eat she was still losing weight. I was laying on the floor with her and I noticed that her tummy that used to be so firm was baggy and hanging. After spending a few hours with her the next morning we (Diana, my husband and I) decided the time had come, so we called the vet and he agreed to come to the house to euthanize her. I will be forever grateful to him for that courtesy. Yes of course he charged for it, but it was so humane and Charlie even greeted him with kisses. Just before the vet came to the house Diana took her for her last walk and she found a toy in the neighbors driveway, she was so proud she came home right away to show me and she had a funny way of pulling her lips back when she was happy so here she comes with that silly silky bone with a smile on her face as she showed it off to me and the vet. I'm sorry to say I didn't handle it well. This was one case where I became the child and Diana was the adult. I lost a pair of twins at birth and this felt like I had lost another child. I was so certain that it wasn't her time and there was no way I would allow cancer to take her. I will say one thing, the vet was amazed that her sores had begun to heal so well. I know it was better for her to go when she did. She was beginning to experience pain, because during the night she would go from couch to floor looking for a comfortable place and way to lay. On these nights we had some very good conversations. I would give her the pain medication and sit and talk to her and love her until the medication took over. It's so funny if you think about it, I would sit and talk about the weather, politics, how much I loved her and she would just look at me with those big brown eyes and I swear she knew that what I was saying was nothing more than blather, but I also know she knew that I loved her and was trying in my own way to help her. I also know that when she looked at me in those times it was with total love in her eyes.
I will always be thankful to my daughter for giving me the gift of sharing that special time with Charlie. She was so special to all of us and as for me she will always be in my heart. The whole experience of first notice of the first sore to her death was less than a month, I pray that someday there will be a cure for it, all forms of cancer, and my prayers are with all of you who have had to experience losing their loved ones to this horrible disease.
Thank you for reading a book about a very special little girl to get the information you requested, this has been an emotional journey for me. If you need any more information I'd be happy to help.