Story told by Heather
I wanted to tell my story on your web site so maybe it can help someone else.

My sweet Dillon was a 7 coming 8 year old Male Doberman Pincher. He was the sweetest Dobe you would ever come across and his breeding was impeccable. He loved chasing squirrels and rats in the barn.
Right before Thanksgiving 2009 we noticed a small lump on his rear right hock so we took him to the vet. The vet wanted to try to treat it for common ailments. So he gave him a shot (steroid) to help with the inflammation and put him on Cephlex. Well he started walking on the leg and using it but the lump did not go down. Christmas day we noticed the lump doubled in size over night. So we made an appointment with his vet and took him in the week after Christmas. The vet removed the tumor and did a biopsy. 3 days later the Biopsy came back as histiosytic sarcoma. He told me that this was not the worst cancer but it defiantly was not the best. We struggled with the healing of the incision were the vet removed the tumor for three weeks.
The incision healed but the swelling would not go down. I took Dillon back to the vet 3 weeks after the original surgery to see why the swelling would not go down, and to my sadness the tumor was back and larger than before. We went over our options and I decided to come home and discuss it with my husband.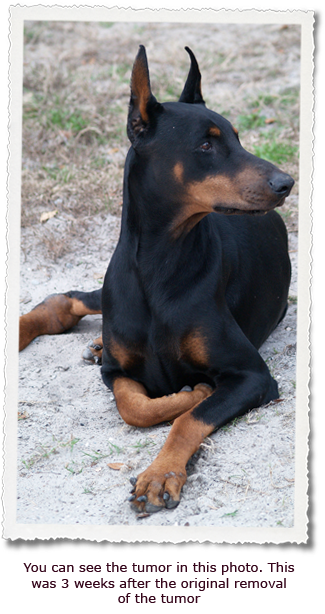 4 days later we called the vet and made the appointment to have the leg amputated. The vet made the appointment for the following Monday. I took him too the vet that Monday at 8:00 am for amputation. The vet wanted to do an x-ray of his chest before he did the surgery to see if the cancer had spread so I agreed. When the vet brought the x-ray in to show me what the findings were, he said there was no reason to amputate because the cancer had spread to his lungs. He had little small tumors all over his lungs. He told me to just keep him comfortable and let him know when anything abnormal comes up.
Two weeks later I called him because Dillon's foot was swelling and he could not use the leg. The tumor had doubled in size again. He prescribed Prednisone twice a day. The swelling went down in the foot and Dillon once again began using the leg and running and playing with all the other dogs. By this point the tumor was the size of two fists together. The vet did not want to remove the tumor again because he was afraid it would come back faster and bigger than the first time he removed it.
March 1st, 2010 I woke up and let Dillon out of his crate. He had an accident in his crate and it was diarrhea. I went to the barn as normal to feed my horses and Dillon and the others came out to the barn. As I walked back to the house I noticed Dillon was not running as he normally did, He was walking slowly and kind of hunched (if he had a tail it would have been between his legs). He walked back into his crate and just sat there. I left for work and called my husband to let him know Dillon did not feel well and to keep an eye on him. Every time I would call to check on him my husband would tell me he was not feeling well.
I got home at aprox 5:30 PM and my sweet Dillon did not run to the gate as he normally did. I parked my car and walked into the open garage. Dillon had come out of his crate and was waiting at the opening to the garage. I reached down and pet him and gave him love he than turned to go back to his crate and was kind of dragging his legs and stumbling. I noticed his breathing was labored and immediately tried to call the vet. His office was closed. I knew it was time. I did not want to take him to the emergency vet and have him euthanized in a strange place by a stranger, so I put a call into my equine vet. My equine vet was on an emergency but he agreed to come out to look at Dillon and possibly euthanize him. He showed up at aprox 9:15 gave my beautiful boy a shot of valium and checked him out. While we waited for the vet to get there Dillon urinated twice in the garage (he couldn't make it outside). His urine was blood. At that time I knew he was nearing the end. By 10:00 my beautiful Dillon was gone. The vet said he was guessing that one of the internal tumors ruptured. He was able to go to sleep with his two girls laying with him. Sheba my female Dobe was laying next to him with her head on his chest and Sasha my Boxer was snuggled up right next to him. After he passed both Sheba and Sasha stood up and walked away. I truly believe they new. Tonight they are both sleeping on the blanket Dillon was laying on and will not leave it.
My sweet Dillon is no longer in pain. He is chasing squirrels and rats up in heaven. As my vet gave him the injection he said he was the best male Doberman he had ever come across and that his dog Roxanne (who came to the farm often) would see him in heaven one day. He will be missed more than he will ever know. My Dillon lived for 4 months with this horrible cancer. It is a very nasty aggressive cancer. We kept him comfortable as long as we could and when we were no longer able to keep him comfortable we made the right decision. I was at peace with it but it was still a very horrible decision to have to make. I do not wish this on anyone.