Emma's story is told by Mike.
Emma was a very special golden. We raised her from a puppy and did everything dog owners cherish – from her first swim, to long walks, to watching her play with other dogs, and sleeping on our bed every night. She was the joy of our lives in every way possible. At about the age of 10 her routine blood test results came back with high Liver Enzymes. The vet put her on a few rounds of various drugs like antibiotics and SAM-E. The subsequent test results varied and at some point we were advised older dogs just naturally have high enzyme test results. We settled into this belief not really knowing what else to do. Emma was for the most part fine for the next year. At some point we noticed the longer walks and extensive swimming would tire her more and more. There were a number of x-rays which led to a diagnoses of "narrowing hips" and arthritis. It would be important to note that those types of x-rays also show the spleen and liver which is where Emma's cancer was (described below). This is a good time for people to take a very close look at those two organs instead of only focusing on bones and joints as I'm sure the organs were somewhat abnormal at this point. Early detection at this stage probably would have been very beneficial.
Over Emma's last year she progressively walked less and less ending up with about a maximum of ¼ mile. Although she showed all the signs of an aging dog, there were no signs of cancer. Her appetite was ferocious and she would frequently ask for food and treats. She still looked at us with those adoring eyes and every morning would roll over for a belly rub – although we could tell the energy level was dropping.
About one month before Emma passed away we had taken her on a longer than usual walk (about 1 mile) and after coming back we noticed she wasn't moving. This was very strange as she was just walking up to when we got home. Over the next few hours we knew something was really wrong. That day I had to carry her out to the bathroom and she wasn't eating either. We took her to the vet where they did an x-ray and they told us her "hips were fused to her spine." This was a horrible diagnosis and we were basically thinking we'll have to put her to sleep if she can't walk at all – again focused solely on hips and spine issues. For the next couple of days we moved a mattress down to the middle level of the house and slept with her in the living room. I carried her up to the shower for what I thought was going to be her last bath. 3 times a day I carried her up and down the stairs to go to the bathroom. On around day 3 we turned around and there she was, still lying down but now in the kitchen. Somehow she walked in there. Over the next day or so Emma started walking little by little until she returned to what was pretty normal for her. During this episode we did have another x-Ray but again the focus was on hips and spine. She was exactly 12 years old at this point. About a week later the vet called us and said, "Emma's spleen is enlarged, you should get an ultrasound." At this point from our experiences described above, we were thinking this was another fairly "normal abnormality" of an old dog. I know you can't live forever but cancer was never really in the picture at this point.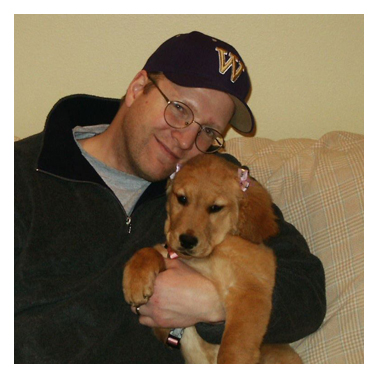 We booked an appointment for the ultra sound about 5 days out. They also did an aspiration of both organs. The vet showed us the ultra sound pictures but of course we had no idea what we were looking at. Those are very hard to read. All I could take in was the vet drawing a line around what was her spleen and liver and drawing another line around how it should look. Both were about 5x larger than normal. The spleen came back positive with a diagnosis of Histiocytic Sarcoma and the liver was negative but they said they probably didn't get a good enough sample as they could see nodules on the liver. This type of cancer is aggressive and not curable, the best you can hope for is to slow it down and buy time. The recommendation was to (1) take the spleen out and (2) do chemo. We scheduled the appointment for the following week. Again, at this time the sense of urgency that this was aggressive was not present in anyone we talked to. I think with people when you get this they say you are going in for surgery tomorrow. Unfortunately that was not the case here. I got more information from internet searches on what we were dealing with. After a week of waiting it was much to our surprise when the vet told us she wasn't going to take the spleen out. The vet had a look on her face like Emma has about a month to live. She said it wasn't worth doing and said we could go straight to chemo. She did not give a very good explanation only pointing to the belief it was also in the liver which tested negative. She said it was likely the aspiration didn't get the right area of the liver. I found an oncologist who was recommended by her other vet and made an appointment. This was a nice little house and I could feel the warm caring environment I'm sure only exists in places where the workers there have accepted death and are there because they truly want to help. I was actually relieved to know Emma wasn't going to be going in and out of hectic vet hospitals anymore. These people were going to give us as much time as possible with Emma with the goal of "best possible quality of life." The oncologist was very nice and referred to Emma as "my girl" which usually doesn't happen. They talked about the chemo process and an experimental drug normally used for osteoporosis which has been very promising. It was $350 extra for that and I opted for it immediately....giving me more hope. They started the first round that day and said it would only take a couple of hours. I went down the street and had a late lunch all the time thinking about life, death, and those songs where they talk about counting precious time. I had moments of great peace and cherished the hope that we could spend every moment like it was our last. They said dogs handle chemo better than people as the dosages were lower. They also put her on a steroid and a Chinese herb which I didn't really understand at the time. Emma looked ok the first two days including pestering us for food which i thought was a really good sign. I thought to myself the steroids were kicking in. On day 3 she had the worst diarrhea I've ever seen. I was up every hour with her through the night. At some point I just laid down on the couch in the middle level so she would get me when the next time to go was. I felt so bad for her but I kept thinking to myself this is part of the cancer treatment and we're going to have a "good quality of life before the end" which is what people were saying. All the while my wife was saying we should put her to sleep now. I just couldn't do it and I called the vets and the oncologists and asked them specifically about her spleen and that I didn't want her to suffer a bleed out death. I was re-assured multiple times that was unlikely given her type of cancer. Of course the prognosis was that it was going to eventually spread into her lungs and brain. So there I was making a choice between a bleed out, cancer spreading into the brain, and euthanasia of a dog that was clearly looking like she wasn't giving up yet - at least to me. Every time I saw Emma wag her tail or go into the kitchen looking for food it was like a little miracle, but in the back of my mind I knew none of this was going to be good.
I told my work I'd be working from home and I moved my work area down to the middle level. I spent every day with Emma but I still wanted to believe we had 6 months left and that her eventual death would be in the hands of a hospice process that involved pain killers and a very obvious condition that telegraphed cancer had slowly won the battle. It was very stressful as my wife didn't like the chemo idea at all. I could feel her belly and it looked bloated. What I thought was that was the chemo working. It was really internal bleeding. At this point I felt pretty alone trying to balance what I thought was right with my inability to let her go, and this very over inflated belief in the chemo process. I just couldn't bring myself to play God and decide the hour or minute of when she was going to die unless it was blatantly obvious. One day when I was at my desk I looked down at her sleeping at my feet and thought it would be very easy to let her go right now as she was sleeping so peacefully. But I just couldn't do it. I felt like a coward who couldn't face reality. I was coming to terms with knowing I would lose her but I couldn't not come to terms with how. Quietly in her sleep (naturally) was the only thing that I could accept.
About a week later my wife took her on a walk, she looked normal. When she came back she was walking towards me and her legs gave out in an unusual way. Hard to describe but I knew what was happening. I ran to her and called my wife. She got up again and I thought ok she's ok, but then she fell again. She was breathing very heavily and groaning. I could tell immediately this was the scenario I had feared. It was 4:30 PM on a Saturday and we had no at home euthanasia people lined up, no pain killers, and no "hospice" process. My dog had some kind of internal rupture and was suffering. We spend about 45 minutes desperately trying to find someone to come over and end her suffering. It was a horrible time. Finally we picked her up and put her in the car and drove to the vet – the scenario we really didn't want. We wanted her to die peacefully at home but we were totally unprepared. Luckily she had me, my wife, and my niece by her side and her regular vet. We got her in and went over the procedure. The vet put her to sleep and you could tell her suffering had ended but it was very traumatic for everyone. I'm grateful the vet was open but very guilty I didn't plan this better. I know you can't really plan for death but I think the thing to take away from the story is that cancer is not the quiet, somber, "hospice" slow death you see on TV or with many humans. It is attacking organs and that's never good whether it is the spleen, liver, lungs, or brain. Many people I've talked to have told me similar stories, especially when it is spread through the body. I hope this story helps someone be more prepared than I was. Do your research, ask questions, and cherish the time you have.