Story told by M. Fletcher
Glory, our yellow lab, was our first dog.  I had always been a "cat person" and was in my 50s before having my first dog -- and she changed my life forever.  We now have 4 more who joined us as strays, but Glory has a special place in our lives and hearts.  
Glory is Sunshine.  She's vibrant, happy, loving, and shows her excitement and eagerness to greet every new acquaintance by tap dancing on her front feet and laughing a greeting of joy.  But she's had difficulties throughout her 8 years.  When just a year old, she ruptured one ACL, which required surgery and careful rehabilitation for 6 weeks.  This was quickly followed by a similar rupture of the other ACL and surgery.  She could never really recover from those surgeries.  Her knees were weak and her upper body became overdeveloped through using her front legs to lift herself whenever she stood up.  However, after close to a year, w e discovered a wonderful veterinarian physical therapist who used acupuncture and other noninvasive techniques to rehabilitate injured animals, and she has worked wonders with Glory.  After a year's treatment, Glory looked like a perfectly normal yellow lab.  We've continued to take her for acupuncture every six weeks or so, and although X-rays reveal pretty bad arthritis in her knees, she has continued to be happy and active and we all looked forward to acupuncture visits.  In the past year or two, she seemed to slow down, shown most clearly by avoiding play with her fellow pack members.  We assumed it was "age" and that the arthritis showing itself.  
Then in July, just two days before we were due to go on vacation, she refused her dinner.  That was unusual!  Like all labs, Glory never gets enough to eat as far as she's concerned, and to pass up dinner was unheard of.  We tried canned food instead of her usual kibble, and she ate that, so we hoped this was a temporary thing.  A good friend of ours and the dogs was to housesit for us while we were gone, so we set off on our long-planned trip to Nova Scotia.  But we learned from frequent phone calls home that Glory's condition was declining. She refused practically anything offered to her, even though she seemed to have an appetite.  She would ask for food with some eagerness, but when it was offered she would turn up her nose.  So our friend took her first to our usual vet and found that blood work was normal, but X-rays showed irregularities in her spleen.  She was next taken to a specialist, and we kept in close touch by phone to track events.  Then two nights before we were due to get home, the tests ultimately showed malignant histiocytosis.  We were heartbroken.  I talked with the internal medicine vet, and he explained the prognosis.  He said that chemotherapy was a possibility, and although that could in some cases extend life and improve its quality, the disease was inevitably fatal.  We discussed the chemotherapy and he explained that it was about quality of life.  It made no sense to take extreme measures to extend the length of life if it is miserable.  But when the objective is suppression of the symptoms, so that the dog feels better and enjoys life again, chemotherapy can provide some help --  sometimes.  We decided to try ­ it was something that we could do for Glory, and we felt that we wanted to give her a chance for more time ­ and us a chance for more time with her.  She had the first treatment the day we flew home.  That was July 26, 2007.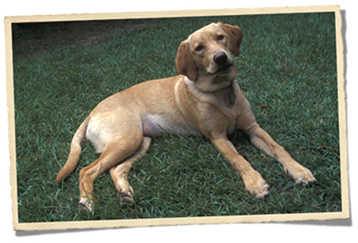 Her first three chemotherapy sessions were doxorubucin administered at the vet's, followed by cyclophosphamide tablets (3 consecutive days) started 5 days after the doxorubucin. The spleen lesions were dramatically reduced after the first treatment, but there had also been a tumor in the abdominal cavity, which disappeared completely. Glory had this treatment regime three times with two weeks between each, and there was no further change.  So our vet then switched to CCNU to see if that would take care of the persistent spleen tumors.  There was no change, and he upped the dosage the second time, and we're waiting so see what happens -- this time with a 3 week interval.  If there is no change, he plans to go back to the doxorubucin and then alternate with the CCNU to try to maintain stability.  Also, Glory has been taking prednisone since the beginning.  These all sound like familiar drugs after reading the other stories --  different doses, timing, sequences, but a lot of the same.  Glory's been lucky in that only the doxorubucin affected her badly, and that lasted little more than a day.  The CCNU had no side effects that we could see.  I wonder if the acupuncture is doing something unique.  I could clearly see its results with Glory's knee problems, but admit I was a bit sceptical about its helping with cancer.  Still at the time we started it, I was certainly wanting to try whatever I could to get Glory eating again.  And she is certainly eating again!!  I really do think it is helping.  
On September 26 Glory was doing wonderfully!!  She had more energy and exuberance than we had seen in many months.  She was tap dancing, laughing, running with the pack, and simply enjoying life.  She responded to her first chemotherapy treatment by regaining a healthy appetite and eating habits within a week, and the only negative side effects of her bi-weekly treatments has been a very temporary loss of appetite and lethargy for a day.  We also stepped up the acupuncture treatments and added "points" for the gastrointestinal and immune systems.  Those also seemed to help, and the physical therapy team was thrilled to see her extraordinary progress.  In two months, she increased her weight from 49 to 58 lbs.  Nodules were still visible in her spleen, but they were reduced by 80%.  She had her life back.  
However we knew this was temporary.  There was no way to know when the disease would reassert itself.  But the treatment had given us a reprieve and we enjoyed every additional day we had together.  The treatments were expensive and I know we were extremely lucky to have them as an option.  But it is important to know that the diagnosis of this disease does not necessarily mean that your dog's life is from that point on destined to decline.  There may be ways to give life a second chance, so that you can continue to share your love and do those things you may have put off before ­ because you were too busy, too tired, or too unaware of life's mortal limits.  We had that chance ­ it's been one of Glory's most important lessons for us.
Glory's next chemo was set for October 14. Although she was still doing really well ­ lots of energy and good appetite ­ I had the feeling that maybe things weren't quite as good as they had been. Perhaps a bit more panting, maybe just a bit less eager for her food ­ it was very subtle. But when we went to the vet and got the ultrasound results, we learned that the disease had progressed. The spleen lesions were larger and there was a new lesion in the liver. So she had the chemo ­ doxorubicin again ­ and we came home to hope that the disease would not move too quickly. Slowly but steadily her appetite declined over the following 3 weeks. The pattern was the same. Without warning she stopped eating the kibble she'd been eating for weeks. We tried the various other foods that we now had on hand, and found that she like cooked hamburger. So that was the menu for a while, until she abruptly stopped eating that. From that point on, it was hard to find any meat-based foods that she'd eat in any quantity, but she still ate modest amounts of her favorites -- scrambled eggs, yogurt, and pears (she had always loved pears, particularly those from our pear trees in the late summer). She also gradually became less energetic, panted heavily, and coughed occasionally. When we went back for chemo after three weeks, she had lost 5 pounds and had lost any interest in almost everything we offered her to eat. The ultrasound results were no surprise. The lesions had all grown, and there was no point in continuing the chemo. The vet said we probably had a few days to a week. That was Wednesday, October 31. Back home, we upped the prednisone and used a different anti-nausea medication in hopes of making her feel better, but she stopped eating and spent most of her time being quiet on her own. She still went out for a walk with us and her pack-mates, but you could tell that it was hard for her, and getting harder each time. By Friday night, we knew it was time to help ease her away from this disease, so Saturday morning she was put to sleep. What we feel now is deep sadness and extraordinary gratitude. We see Glory everywhere and miss her physical presence terribly. But she left us with such a wonderful gift of having known her. She was our Sunshine, and still now her memory brings light to our lives.