Story told by Heather Werner
Howard was our 5 year old Bernese Mountain Dog.  He was the sweetest boy on earth and we loved him very much. On August 15th, 2006, we were handed the worst news ever!  Howard was diagnosed with Malignant Histiocytosis.  
When my husband Mark and I decided to have a puppy, we were looking at St Bernard's, but the drool wasn't anything we were too keen on. We then heard about a dry mouth St. Bernard.  In our research of this breed we came across the Bernese Mountain Dog, and well, needless to say it was love at first sight so we did even more research on this breed to make absolute sure this would be a perfect match. It was !!  
Mark and I went to shows, we met with different breeders and then found someone we were comfortable with. She was wonderful and very patient with us. After a year on her waiting list, one of her dog co owners had a litter of 5 puppies and we were to go look and meet her and thus met Howard as well.  My heavens he was so adorable.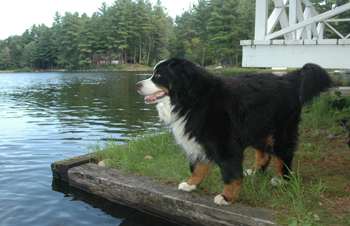 The breeders were very responsible and told us that cancers run high in this type of dog, but our hearts were set and when Howard was 8 weeks old, we took him to his happy home.  
We have had so much fun with him, he was the most gentle, loving, and fun dog either of us has ever experienced.  It is so heartbreaking that our time with him was cut short this way.  I just can't stand it, it happened oh so quick!  
On July 12th, Howard ate his dinner (Iams large breed kibble) and immediately proceeded to vomit it back up.  I thought it was the heat, as it was well into the 90's that day and Howard is such a big furry pup that heat and he never did get along. Well the following morning at breakfast time the same thing, he ate and then vomited, and again later that night and again the next morning.  
I took him to the local vet here in Nassau NY, which is where we've been taking him for all his checkups and shots.  I explained to them that two of Howards brothers have previously died from strange stomach disorders, one at only 2 years of age the other at 3. The one was autopsied and found to have a twisted bowel so they x rayed Howard's tummy and bowels and did not see anything.  They took blood and his white blood cell counts were a little high, so they sent me home with antibiotics and doggy pepcid for the vomiting.  They also weighed him, he weighed 102 pounds as opposed to his normal 118.  
That following Wednesday, Howard is still not eating anything, and he certainly was not going to take those antibiotics. When we did get them down he proceeded to throw them back up. I was trying EVERYTHING, peanut butter, hotdogs, chicken, eggs, rice, you name it I tried to feed it to him.  He just would not eat.  He did decide about a week later that he liked hamburger, so I was cooking hamburger for him, and feeding him many small meals a day ( and I mean small, poodle puppy amounts of food was all he would consume).
On Wednesday July 19th, I took him back to the vet. They did more blood work, ghiardia tests, and gave him about three injections of different things including a Vitamin B shot and an enzyme IV.
$700 later they still had no answers as to what was wrong with my boy.  
As the days went by and the more people I spoke with I received countless words of advise, and many people in town were praying for Howard. He still was not eating and getting weaker by the minute, he was wasting away to nothing.  I called the vet again on Wednesday August 2nd to ask them if they could give him something to stimulate his appetite.  I never heard back from them until Friday night.  I called again and asked about a liquid form of antibiotics that Howard might be able to take.... never heard back.....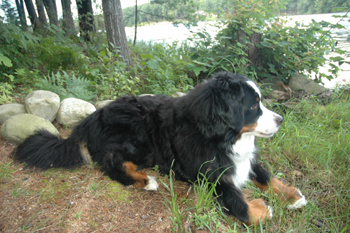 I was taking my morning walk, without Howard as he was now too weak for walking with me, and my neighbor asked where he was, I told him the story and he answered "Chris Southard", who was that?  Chris is a vet in Kinderhook NY, and my neighbor highly recommended him, along with many others I spoke to after.  
On the 9th I picked up Howard's medical records and x rays from Nassau Vet and brought them to Dr. Southard.  He called me the next day and told me he just wanted to see my baby, just look him the eyes and ask him what was wrong.  
On August 15th, we went and met Dr. Chris Southard.  The Dr. looked at the x-ray again and pointed out that something was missing in the x-ray, that he could not see part of the esophagus and that he was afraid that Howard has Malignant Histiocytosis (MH). He took another x-ray of Howard's chest which confirmed his thoughts. My poor baby was covered with tumors on his lymph nodes around his heart and espohogus, which made eating painful for him. He weighed in at 96 pounds.  
Dr. Southard was very kind in telling us what was happening, and promised to make some calls to Oncologists he knows to see if anything new has come up as far as treatment, he also asked me to check around, on line etc to see what I find out too. He gave us some special food to mix into a slurry along with an appetite stimulant (the same they give to human chemo patients) to see if Howard would at least lap that up and get a little nutrition.  
The prognosis was very grim, as there is no cure, and any of the chemo treatments or steroid treatments have been known not to work and would only extend his life by another week or two. MH is a very aggressive form of cancer of the white blood cells that attacks the organs and lymph nodes.  
Dr. Southard was very gentle and amazingly quite loving with Howard, shedding his own tears while giving us the news.  We brought Howard back home, and he rested and we got to spend a few more days with him.
But on August 18th, 2006, Howard was put to rest. 
May he rest in peace and enjoy Heaven.  



I want to thank those of you who have known of this from the start and offered advise, prayers and were just there for us.  Also Thanks to those of you who visited Howard during his last days, to tell him he was loved; Nicole, Hope, Cyndi, Krista (aka Kayla) and our dear friend Holly, a special hug to you for all your support and love.  
Joe, Lorraine and Clancy (Newfoundland ~ Howard's best buddy) it was so wonderful that you visited on Howard's last night.  We were able to see a spark of who Howard used to be, as he was so happy to see you all.  It made the evening easier, having true friends who care by our side during a very difficult time.  
Although this decision has been extremely difficult, Mark & I feel we have made the right one.  Howard was very restless, his breathing was labored, he was very fatigued and just fading away from us.