Story told by Lori Wensley
April 18, 2005
We always knew Jack was an exceptional dog, and take so much for granted with him -- he's so smart, well-behaved, fun, and just loves us unconditionally! I swear Jack understands the English language -- he's so aware of everything we do, and seems to know what's going to happen next (before even we do). He listens, and innately knows what the right/ wrong thing to do is. He's been such an integral part of our family for just about 8 years now, and we're cherishing every extra day we have with him!
On April 5th, Jack seemed to lose control of his hind legs -- he had great difficulty standing/ walking, etc. For at least a week prior to that, Jack wasn't too interested in eating. It wasn't uncommon for him to go through bouts of decreased appetite every so often, so up until his legs seemed to give out, we weren't overly concerned (and combined with the fact that he was in for his "Senior Exam" the week before and everything was FINE).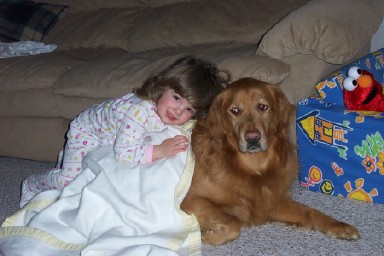 We took him to our vet on 4/6, and they kept him there all day for x-rays/ observation. They found a tumor on his spleen and recommended we take him in for an ultrasound, which we did the following day. The ultrasound revealed 3 enlarged lymph nodes, which they guessed to be lymphoma. All other organs at that time appeared to look good though. Neither the sonographer nor the vet seemed to see a correlation between the lymph nodes and the tumor on his spleen, since they guessed at a hemangiosarcoma for the spleenic tumor, and lymphoma for the lymph nodes. We obviously wanted to get an accurate diagnosis, so we opted to have the tumor and spleen removed, and also biopsy the lymph nodes.
Jack's operation was on 4/12 and the Dr. noted that other than the tumor, spleen, and lymph nodes, that all his other organs appeared to look alright still. The results came back on 4/15 with a diagnosis of histiocytic sarcoma, which we were warned had a bad prognosis. They are sending the lymph nodes back for further examiniation since they couldn't initially find cancer on them, only in the spleen/ tumor --- apparently they will cut the biopsied pieces smaller and test more from there.
Since Jack's surgery last week, he's been recovering amazingly well! He's been eating a lot (of course we've been feeding him whatever he wants), but he even eats his normal dry dog food if served alone. We've had exceptional weather here lately, and one of Jack's favorite things to do is to go outside! It doesn't matter what we're doing out there, just being able to walk/run around makes him most happy (he's not a "leash dog", so he does what he pleases)! He's been having a blast being out there with us (& the kids), and is getting soooo much extra love & rubs these days. Of course, he's still recovering from surgery so we're trying to prohibit him from running, but he's just loving his life right now --- but I still can't help but wonder why he seems to be doing so well. I've read so many things about this thing coming on so suddenly, but I'm praying maybe they got all the cancer when they removed his tumor/ spleen? The vet said that was unlikely due to the terrible prognosis for this disease, but I have a small bit of hope left -- of course I've prepared myself for the worst at the same time.
We expect to hear from the Pathologist in the next day or two to see if they found anything more in the lymph nodes. At that time, we can set up a consult with Cornell University (2 hour drive), which we'd like to do, considering how well Jack seems to be doing. Or we can get another biopsy of the lymph node to get a larger/ better sample. I've been scanning the Internet looking for similar scenarios of this disease, but it seems as though most cases have evidence of it in the liver/ lungs/ heart whereas with Jack, it doesn't APPEAR to be yet, but ya just never know how fast this one will spread.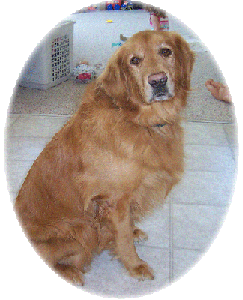 Update - as of April 30, 2005
Even though Jack seemed to bounce back well & had some really good days after his splenectomy, he has definitely taken a negative turn over the last week. When we were in the waiting room to get his staples removed, I felt a large lump on his neck (it must have been fairly new, since I'm constantly petting him these days). The Dr. took a sample with a needle, and reported that it appeared to be cancerous. Since Monday, another (much smaller) lump developed near the first. Jack stopped eating his dry food, but will still eat people food and still enjoys his "treats". He drinks A LOT, which I'm not so sure is a good thing (dehydration), and has a very runny nose for some reason. For the first time in his entire life, he isn't sleeping by our bedside at night, but rather downstairs in the foyer on the tile. We try to coax him up, but just doesn't want to come. He has vomited once in each of the last two evenings before dinner time, but does seem to be keeping most food down pretty well. And he still loves coming over to us in the evening for some tummy rubs and itches. Jack really enjoys his time outside with us, and still searches for his toys/balls outside, and will chew them and seems to enjoy playing. Unfortunately I feel like the end is coming near though, and we're struggling with WHEN the right time to euthanize is. What a horrible decision it is to have to make, but of course we're trying to keep his happiness/comfort as the driving factor. Neither of us feel like it's the right time yet though but I have a feeling we will both agree when it is...
Update - May 2nd, 2005
Jack lost his battle with Cancer today, and I am comforted to say that he is in a better place with no more pain and suffering. Jack woke up this morning and didn't have any desire to move. By lunch time he was having trouble breathing, and we knew it was time to help him get to a better place. We went to the Vet at 5:15PM and for the first time ever, Jack entered the office with such a calm demeanor. I think he accepted it and was happy that he was going to be relieved of his pain. He laid down with his head on my lap, looking at my husband and I as the medication took effect. He was so calm and peaceful the whole time.
We plan to spread his ashes in a field across from our old house (which he grew up LOVING to run in), and also in some body of water -- Jack loved swimming - it didn't matter if it was a lake, a stream, or a pool, he just loved being anywhere near water. This experience has been really tough on us due to the fact that it all happened in less than a month's time, but we are grateful to have been there by his side giving him love and strength in his last days. He truly was the BEST dog an owner could ask for, a terrific companion and friend, and will be sorely missed.
Jack leaves us with so many wonderful memories and will remain in our hearts forever.
Lori and Rob Wensley