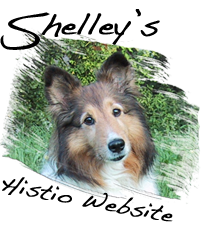 HOME

To the ENGLISH website

Naar NEDERLANDSE website

Contact me
YOUR HISTIO STORY
I am looking for similarities
in all individual cases of
Histiocytic diseases.
I wonder if we all tell our
stories we might come up
with some commonality
between the specific
situations in which all of
our pets got this disease.
So please email me the
details and I'll put your
pets story on Shelley's
Histio Website
UW HISTIO VERHAAL
Ik ben op zoek naar
overeenkomsten in alle
individuele gevallen van
Histiocytose.
Ik hoop dat wanneer wij
onze Histio verhalen
vertellen, wij overeen-
komsten ontdekken over
de manier waarop onze
huisdieren deze ziekte
hebben opgelopen.
Stuur mij de details en
ik zal het verhaal van uw
huisdier op de Histio
website van Shelley zetten.
WARNING !
These stories are all
different. Individual
symptoms, situations
and circumstances
may vary and response to
therapy is not always the
same.
- Disclaimer -
WAARSCHUWING !
Deze verhalen zijn allemaal
verschillend. Individuele
symptomen, situaties en
omstandigheden kunnen
verschillen en de reactie
op therapie is niet altijd
hetzelfde.
- Disclaimer -

HISTIOCYTOSIS IN
OTHER LANGUAGES
German - Hund
Maligner Histiozytose
French - Chien
l'Histiocytose Maligne
Italian - Canis
Maligni Histiocytosis
Spanish - Perros
Histiocitosis Maligna
Dutch - Hond
Maligne Histiocytose
HOME
Lexie Lynn
Malignant Histiocytosis
Golden Retriever
Female
November 23, 1999 - April 16, 2009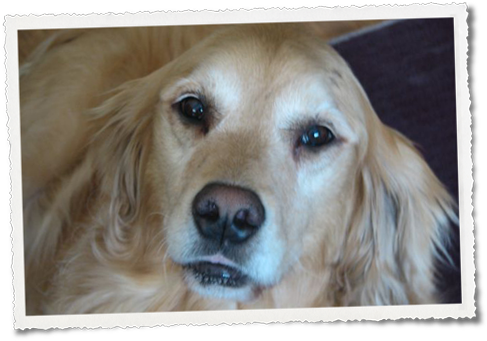 First of all, I want to thank you for your web site Mo, it helped me understand a little more about this horrible disease that our pets have. Reading others journeys with their pets gave me some insight on what was going to happen with my Lexie. Our vet did not know alot about this type of cancer other than it was fatal. It also made me feel like I was not alone during this little bit of time that I had left with my Lexie Lynn. Thank you everybody for posting your journey, it is one of the things that has helped me through this tragedy.
Our story goes like this....We had to put our first Golden Retriever down at the age of 8 months due to incurable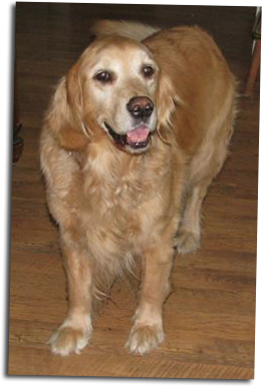 health issues due to getting her from backyard breeders. In looking for another Golden I did lots of research, the kennel clubs, provincial and country as well as made a list of questions for each breeder I spoke with. I also learned that the breeders also interviewed me (and family) to see if we could even have one of their puppies. Upon finding a breeder I really liked and the breeder offering us a puppy (when a litter was available) because she like us, we waited just about a years time for our precious baby girl. My husband and I had to go by ourselves to meet the mom and the litter a couple of times, then we could bring our children for visits as the puppies became older. Up until the day before we got to take our new puppy home we did not know which one we were getting as our breeder picked the puppy for us. At first, I did not understand why she chose for us but after learning why it made sense. She new all the puppies well and all of us well, based on the puppies temperament testing and our lifestyle she picked the most suitable puppy for each family.
The day had finally arrived, my husband was away so our youngest two children and myself went to pick up our new puppy (little did I know at the time that this puppy would become one of my best friends). We arrived at the breeders signed all the papers and she handed us a little female, cuter than a button. We had everything ready at home for her as well as instructions from our breeder about training her through a dogs eyes (very helpful). We had two Shitzu crosses at home already. Right from the get go this little girl was so smart (she never had one accident in the house and it was winter when we got her). Each night before going to bed I would spend two hours alone time with her, playing, petting and teaching her things, I can honestly say that I always loved dogs prior to her but I knew there was something special about her. We all picked and agreed on her name...Lexie Lynn (my middle name). She was a joy to be around all of the time. We went to puppy classes together (her and I) and she won a certificate at the end of the classes for the "Most Well Behaved" puppy. We had her fixed at 8 months of age, as we had a non-breeding contract and she had all of her shots when needed. I really developed such a bond with Lexie, I swear if she could talk to me she would have. If I was in the yard gardening she would actually help me when I asked her too, her tail was always wagging. People who were regular visitors at our home said I had spoiled her rotten because I was always petting her, if it was not with my hand she knew exactly where to sit so I could use my foot to rub her. A year after getting her we purchased a male golden named Bentley, we co-own him with the same breeder. Lexie was a bit jealous of him at first but they it did not take long for them to bond (she was always the alpha). They played together, slept together and in their 8 years together they only ever had three quick growling sessions, it was amazing that they never fought. She was not a big Golden she only ever weighed around 60 pounds and was fairly healthy, she did have alot of lumps on her that I would have checked and I was always assured that they were only fatty tissue cysts.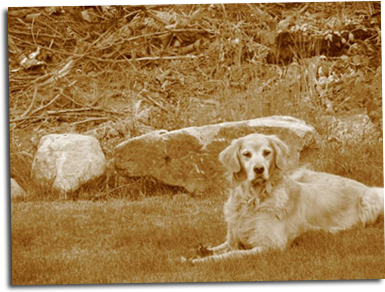 I noticed she had been losing a little bit of weight but I had been out of the country for 3 weeks in January and two weeks again in February and March so she was kennelled and she did not like being away from me, she did not always eat alot when I was away from her, but also the last week before diagnosis she was not eating very well at home. On March 17 when I was petting her I could really feel her spine and noticed in the last week that she was sleeping alot and very heavy, she did not seem to have her usual energy.
Our horror story began on March 18, 2009 when I took Lexie into our vets office because I was concerned about the symptoms I had been noticing over the last week or so. Upon the vet looking at her she said that she had only lost a couple of pounds since I last had her looked at but what was concerning was her pale gums and major muscle mass loss. She suggested that we start with blood work and she would get back to my that day with the results. She did mention that Lexie seemed very happy (even though we were at the vets and she was always very nervous there) and her heart rate was good. That evening at around 6 pm I received a call from our vet and she told me that the new was not good. Lexie's red blood cell count was very low, she was very anaemic and that was why her energy level was so low and thats why she would sleep so heavily. I responded with "can't we give her iron pills?" she said that "she did not know for sure but this is not looking good and is probably some kind of cancer". I just about died right there...I was shocked beyond belief! She asked me to bring her the next day March 19, 2009 for x-rays. March 19, 2009 I brought her in at noon and then I was to come back at 2 for our consult. I was a nervous wreck waiting to get back in for our consult, beside myself, not knowing what to do, I prayed so hard that it was something that we could fix. At 2 pm they reunited Lexie with me and the vet was showing me her x-rays. There was some good news she said because they did not find any tumours by her heart, lungs etc. but what they did find was something in her stomach, it was full. The vet thought that she may have eaten a rope or a towel, something like that and that is why she was not eating (her tummy was full) but what it could not explain was why she was losing blood. The day before she asked me to check her urine and stool to see if there was any blood in it, there was not. They wanted to operate first thing Friday March 20, 2009 at 9 am. I was relived to know that the surgery would fix the problem but in the next breath the vet said she still thought something else was the matter because of such a low red blood cell count which is usually cancer. We went home and Bentley was so happy to see her, as they have never been apart other than Bentley being at a dog show or either one of them being at the vets, they were tied at the hip.
Friday March 20, 09 I brought her to the vets office at 8 am and there was my vet and another vet that were going to be doing the surgery. They looked at her gums again, they stated they did not want her under anesthetic long because Lexie's gums were so pale, I gave her big hugs and kisses and left with tears in my eyes and praying for her. I came right home and anxiously awaited the vets call trying to think very positive. At 11 am the vet called, my heart was pounding so hard, Lexie did well in the surgery but they did not find anything in her tummy (it was empty). I was shocked as I seen her x-ray and it looked full of something. The vet explained that it must have been the way she was laying during the x-ray and her tummy being so empty that it was her intestines laying behind her stomach and that is what we seen. What they did find in surgery was her spleen was 5 times the size it should have been, hard and full of lumps (they also biopsied her liver as it had lumps in it also). She told me that she was sure it was cancer but was unsure of the kind. The sent her spleen and piece of her liver to the pathologist and it would take a week to get the results back. I went later in the day and spent two hours with Lexie as she could not come home for a day or two after the surgery. She had an 8" incision on her belly and a 5" incision on her actual stomach. She looked so helpless and my heart just ached for her. That whole day my male Bentley was beside himself and just paced back and forth all day and night. Saturday the vet called at noon and said I could bring her home at 3 pm but there were a lot of things that I had to do differently with her while she healed. I was so happy to have her home as was Bentley and just prayed that it was something we would be able to cure.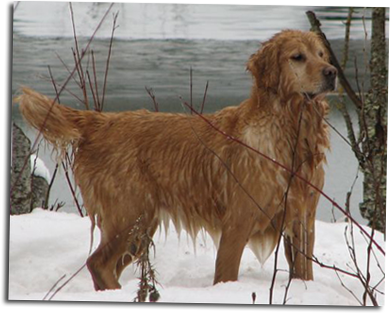 March 24, 09 our vet called late in the day to see how Lexie was doing and told me she got the results back. She started with "I am so sorry this is not the news I wanted to give you, Lexie has a cancer called Malignant Histiocytosis and there is no cure". I couldn't even speak, I just broke into tears. Our vet was very sympathetic and stayed on the phone with me for around 20 minutes, I asked her if there was any treatment at all? Thinking that they removed her spleen, wasn't that enough to get rid of it? she said they found it in her liver as well. She was going to post on a site that she was involved in with some oncologist and see if they had any suggestions and she was sure they would be back in contact with her with 24 hours. I ran to my baby girl and was just sobbing with thoughts running through my head of what was going to happen, I just could imagine not having her in my life. She had always been there for me and through my surgeries she would gently lay beside me or if I was going through a rough time she never left my side. I called my husband who was away driving in another country and told him the horrible news, he fell apart. Then I had to tell our children (who by now are all grown and live far away from us) we were all just torn apart. Our eldest sent Lexie some presents right away and came home two weekends in row to spend time with her. I could hardly even look at my precious baby girl becasue I would just lose it. My breeder also kept in close contact with me throughout this tradgedy and was a shoulder for me to cry on. The next day the vet called to say that there was no treatment for Lexie that would extend her life for any great period of time with qualitiy of life as well.
Later that night I googled this type of cancer thinking that there had to be something I could find to save her and came across this website. I read all the stories on this site, I cried and cried but come to realise that there was no real hope in finding something to cure Lexie. It did give me some insight on what to expect throughout this tradgedy. I also found some similarities in prior incidents with Lexie such as; July of 2008 I found a lump on her front left leg that felt different than her other cysts and she started to limp a little bit in her back end. I took her to the vet right away and they said she had a bit of arthritis starting and the cyst was the same as the rest of the cysts she had...nothing to worry about, now I wonder if the diagnosis was right...not!
Trying to prepare myself for her dying was very hard to do when most days (after her recovery) she seemed to be my same old Lexie, playing, running and so happy, her tail never stopped. Through this site I decided I would know when it was time to put her down, the vet said "anywhere between two days and 3 months". We spent our days doing are normal routines, everyday I would check her gums to see the color, if they were on the pinky side I new she would have energy and if they were on the lighter side I knew she would be more tired. She continued to eat all of her meals, I must say that from the day of diagnosis I fed her everything (my vet even told me to take her Tim Horton's for timbits) lets make her as happy as possible for the time that she has left. I tried to fill her days with the most love and attention that I could give her. March 15, 2009 Lexie had been doing great up until the evening, she was my histoic baby girl. The door bell rang and she ran to the door as always, she greeted.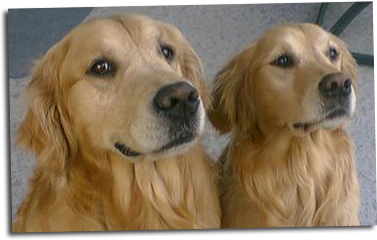 I returned to my seat, she followed a couple of minutes later and sat in front of me like always, I looked down at her, her tongue was hanging out of mouth. I immediately dropped to the floor and began to talk to her and cry. She did not seem to have control of the left side of her body. I tried to calm down and just talked and pet her not knowing what to do. After a couple of minutes she stood up and acted as though nothing happened. As the night progressed she was panting somewhat but there were no other episodes. The following morning (March 16, 09) we awoke and did our normal routine but she only ate about 1/2 of her food (fresh salmon). I was in my office doing some work and she laid by my feet were she always did (for some reason I did not check her gums that morning). The kids returned home and took Lexie and Bentley outside with them, which they loved so much. Later (1/2 hour) I joined them outside and Lexie was rolling in the grass and playing but as she stood up she seemed a bit wobbly, she then took a few steps (while this is going on I am running to her) and began to fall and her tongue was out of her mouth again. I panicked, cried and talked to her knowing that I had to get her to the vet, we carried her into the house and laid her on the floor while I called the vet. When I returned to her, she lost control of her bowels, her tongue was out of her mouth and she couldn't move very well (but her tail started to wag when she seen me come around the corner). We cleaned her up and I sat and talked with her for a couple of minutes then I went to get her leash, to my surprise when I came around the corner she was standing up, tongue back in her mouth, she was looked like she did a day ago. Upon arriving at the vets Lexie jumped out of the car and walked in, the receptionist was surprised. She went to get our vet and I leaned down to pet Lexie, she fell again with her tongue out of mouth, I became hysterical (not knowing what was happening to her). We got her into the exam room where my vet looked at her gums and said "her gums are white, her heart rate is very poor so I think it is time". I knew all along that this disease was fatal but I expected her to deteriorate over an extended period of time not in 15 hours. My husband was out of town and I needed to call him. The vet said we could try a blood transfusion but because she was so weak she might not except the blood, it would have extended her life a day or two she thought. I asked if when she was losing control if she was pain and the vet did not think that she was but she said "that Lexie was scared not knowing what was happening to her". After speaking with my husband (he was distraught because he could not say good-bye to her) the vet also talked to him and explained what she thought the blood transfusion would do, he said it was time (I could not make that call because I kept thinking that maybe somewhere there was something we could do). The vet took Lexie and put the IV into her leg, brought her back to me where I sat with her, petting and talking to her for about 20 minutes. The vet asked if I was ready, I told her that I would never be ready to lose my baby girl so she could start when she was ready. I just held her and talked to her telling her she was the best friend I have ever had and that I loved her so much as she passed away in my arms. I had a really hard time leaving her that day (I stayed for about an hour), I clipped some of her fur off for my scrapbook and covered her with a blanket as I left. I had her cremated and put in a very nice wooden box and she sits in my living room with our very first golden...Bailey Belle.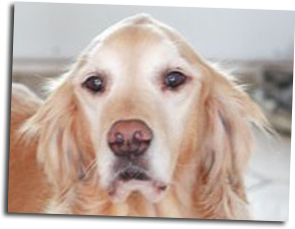 Upon arriving home my male Bentley knew as I opened the car door and he looked inside for Lexie. I was removing her blanket and he grabbed onto it as we both walked into the house each holding a piece of it. We got to the kitchen were I sat down beside him and he just began to cry. The two of us just sat on the kitchen floor crying and trying to comfort each other. It has been just over a week and we are both so heart broken, he is very depressed and does not want to do much of anything (I was worried from the start about what his reaction was going to be). I am feeling much the same way, I spend alot of time by myself and Lexie stuck to my like glue, I still can't believe that she is gone...
That is Lexie's story and I will be forever greatful for the happiness and unconditional love she has brought into my life even when she did not have enough energy to stand up or hold her tongue in her mouth, she still wagged her tail when she saw me. If only the human race was as kind as these loving animals we have all lost.

Story told by Debbie K.

To our Histio website in English

Naar onze Histio website in het Nederlands

Be sure to seek the advice of your veterinarian about any question you may have
regarding your pet's health and behavior.
No diagnosis can be done without a veterinarian actually seeing and examining the patient.
DOG OWNERS SHOULD REPORT ALL CASES OF HISTIO TO THE BREEDER AND THE BREED CLUB!