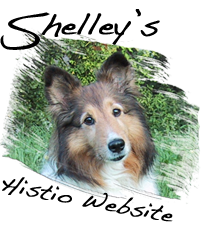 HOME

To the ENGLISH website

Naar NEDERLANDSE website

Contact me
YOUR HISTIO STORY
I am looking for similarities
in all individual cases of
Histiocytic diseases.
I wonder if we all tell our
stories we might come up
with some commonality
between the specific
situations in which all of
our pets got this disease.
So please email me the
details and I'll put your
pets story on Shelley's
Histio Website
UW HISTIO VERHAAL
Ik ben op zoek naar
overeenkomsten in alle
individuele gevallen van
Histiocytose.
Ik hoop dat wanneer wij
onze Histio verhalen
vertellen, wij overeen-
komsten ontdekken over
de manier waarop onze
huisdieren deze ziekte
hebben opgelopen.
Stuur mij de details en
ik zal het verhaal van uw
huisdier op de Histio
website van Shelley zetten.
WARNING !
These stories are all
different. Individual
symptoms, situations
and circumstances
may vary and response to
therapy is not always the
same.
- Disclaimer -
WAARSCHUWING !
Deze verhalen zijn allemaal
verschillend. Individuele
symptomen, situaties en
omstandigheden kunnen
verschillen en de reactie
op therapie is niet altijd
hetzelfde.
- Disclaimer -

HISTIOCYTOSIS IN
OTHER LANGUAGES
German - Hund
Maligner Histiozytose
French - Chien
l'Histiocytose Maligne
Italian - Canis
Maligni Histiocytosis
Spanish - Perros
Histiocitosis Maligna
Dutch - Hond
Maligne Histiocytose
HOME
Lily
Systemic Histiocytosis
Scottish Terrier
Female
December 5, 2006 - March 31, 2014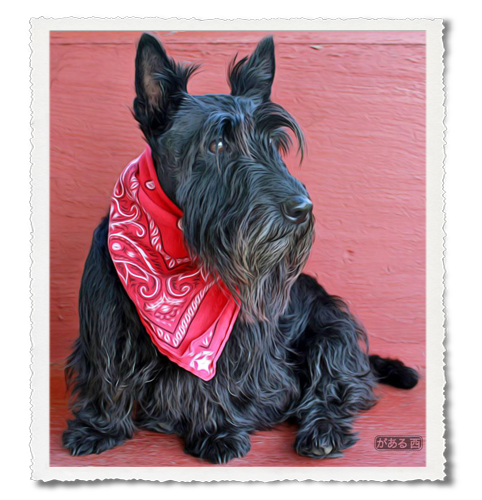 Story told by Gary and Lynn.
All of my life I had dreamed of having Scottish Terriers and every year when my husband would ask me what I wanted for Christmas, my answer was always the same – "a Scottie". Finally one year, I got a gift certificate for a Scottie!! I researched breeders and found one that I felt like had great ethics and good health practices. My little LillyBug was the perfect little Scottie girl – all Scottitude!! She was the picture of health for 7 ½ years. But then…

I found the first bump behind her ear on Thursday night, March 13th. At the time, I just thought that the next time she went to the vet I would mention it. Then on Saturday, I got her on the grooming table and found about a dozen of these bumps. They were raised bumps under the skin. The smallest one was the size of a kernel of corn and at that time the largest one was about the size of a nickel and it was draining slightly. They were as hard as a rock and didn't move like a cyst would. It snowed on Monday and I couldn't get her to the vet so I took her on Tuesday. By this time she had one the size of a golf ball on her right flank, but it was covered by her furnishings so I couldn't see it just by watching her walk.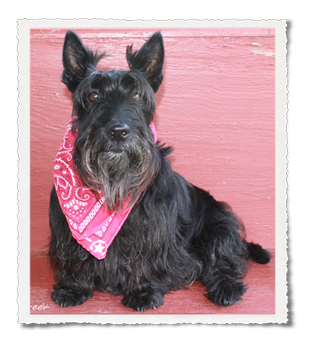 The first diagnosis made on Lilly was skin cancer by visual exam. She had two biopsies and it still came back as skin cancer. But neither Dr. Jim nor two of the pathologist at the lab thought that was a true reading. So they got a senior person involved in the case and they did extra tests and it was found to be systemic hystiocytosis. After making the discovery we knew a different route to take on her meds.

This disease is very rarely seen in any dog but Bermese Mountain Dogs. Lilly made it 2 1/2 weeks from the time I found the first bump. She was euthanized on March 31, 2014. It basically comes up overnight. But I did find out that it was probably inside her body before she had any outward signs. When I took her to the vet on her last day her stomach was distended because of an enlarged spleen and he could feel the nodules on her spleen. She could barely walk and had lost almost all use of her hind legs. Her spirit was gone. I knew then that we had to help her pass through the veil.

I hope by my tragic experience that I can somehow bring this horrible type of cancer to the forefront of veterinary medicine so that someday it might be either eradicated or treatable. I would not want anyone else to go through the heartbreak of it. My darling girl lost that indomitable spirit that so much defines our breed.


To our Histio website in English

Naar onze Histio website in het Nederlands

Be sure to seek the advice of your veterinarian about any question you may have
regarding your pet's health and behavior.
No diagnosis can be done without a veterinarian actually seeing and examining the patient.
DOG OWNERS SHOULD REPORT ALL CASES OF HISTIO TO THE BREEDER AND THE BREED CLUB!