I lost my male German Shepherd Logan to this disease in October 2002, just a week before his 11th birthday. Unlike most of the other stories here, we did not get a definitive diagnosis until necropsy.
Logan had always been very healthy and fit, but during the summer of 2001 he started losing condition. His skin and coat were not the way they used to be and I had trouble keeping weight on him. I brought him to the vet, who did bloodwork that all came back normal. A short time later he developed Horner's Syndrome. He had another complete check-up and everything came back normal. His overall condition was still not good, his weight was too low and his coat was dry. Logan had been on a raw diet for most of his life, but changes to the diet didn't result in any improvements. Eventually the Horner's resolved itself.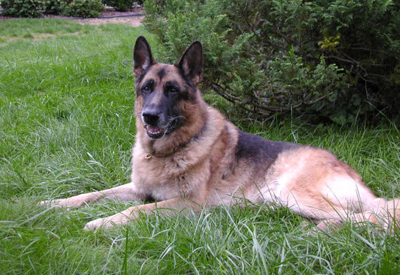 A few months later in September 2001, I had my 3 german shepherds at a GSD party, and I put my hand down on Logan's back and found a lump that had NOT been there 2 days earlier when I did a full groom on him. The lump was the size of an egg, and it was behind the wither and to the right of his spine. I had a vet tech friend take a look and she groaned, saying that anything that size that showed up that quickly couldn't be good. She was thinking mast cell tumor. Back to the vet a couple of days later where they did a needle biopsy. The couldn't tell anything from that but the general feeling was it was a mast cell tumor. I made an appointment with another vet, where a friend worked who could keep an eye on my dog if I had to leave him there. They re-did the needle biopsy and couldn't see anything definitive, so we scheduled Logan for a surgical biopsy.
2 weeks had gone by since finding the lump, and it was already significantly larger. The vet told me she had to cut through muscle to get to the lump, and said it was one of the strangest growths she had ever seen. She didn't know quite what to think. The lump was greyish-green in color, and when she went to take a sample pieces it sort of crumbled. She also said the lump went very deep into his back right next to his spine, and that if it had to be removed she would not be able to do it, so he'd have to go to a specialist. The vet sent the various pieces off to the lab, and unfortunately the results came back "inconclusive." They wanted her to re-do the surgical biopsy and take pieces from a different part of the lump, but Logan seemed to be in a lot of pain from the surgery so we opted to leave him alone. My vet said that whatever this lump was, it was a Very Bad Thing. She didn't think we would accomplish much by trying to remove it, and she didn't want to try because it went deep and was so close to his spine.
So we opted to leave Logan alone. The lump continued to grow but more slowly, and it didn't seem to bother him any. While his overall condition didn't improve it didn't get any worse either. He continued to eat with great enthusiasm and acted like he was king of the world. I took him for regular chiropractic and acupuncture treatments and continued his raw food diet. For the last several years he had not received any vaccinations except rabies and was not going to get any more. I didn't feel like he was truly healthy, but no one could find anything specifically wrong. Blood work continued to come back fine, especially for a dog his age.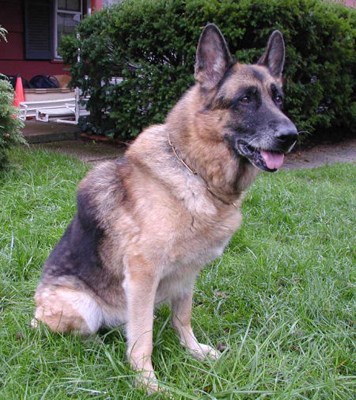 Moving forward to summer 2002. Logan was still with us and doing fine, but suddenly the lump started growing quite rapidly. No one knew what to make of the lump. By September it was so big I could barely stretch my fingers across it. He was still getting acupuncture and his bloodwork still looked good, and people were telling me not to be such a worry-wart. Over the summer he started showing signs of weakness in his back legs, but that's not entirely unexpected in a 10+ year old GSD. So the lump was growing, the legs were getting weaker, but the bloodwork still looked OK.
One Thursday night in October, Logan needed help getting up the stairs. He had NEVER needed help before. Friday night was even worse. Saturday he was having trouble pulling himself up into a stand. I called the vet's office, the vet who had been treating Logan was away for the weekend but would be back Tuesday morning. They suggested I drop him off Tuesday morning and they would run more tests. But by Sunday morning Logan was having trouble walking, and by Sunday night we had to hold him up to relieve himself. Monday morning he was still eating, but by Monday night he couldn't finish his food and he seemed to be short of breath. At that point it was obvious that he had had enough, so I called the vet's office and changed the appointment to a euth appointment Tuesday night.
Tuesday we gave him all his favorite foods, including sushi and beer, and headed off to the vet. She took one look at him and asked "How long has he been breathing like that?" We weren't sure exactly, it had sort of crept up on us. She was sure that whatever the lump was, it was affecting his breathing and had probably moved into his spine. He left us very peacefully, and afterwards I asked her to take as much of the lump as needed and see if she could get a diagnosis.
This time the lab results came back diagnosing a "poorly differentiated malignant mesenchymal tumor" and a suggestion that further diagnosis would require immunohistochemistry. We went ahead with that because we really wanted to know, and this time it came back that "the neoplastic cells are of histiocytic origin." So our vet said it looked like MH, and it was best that we'd opted not to treat because it wasn't anything treatable anyway.
So that's our story. It's probably not typical in that he was pretty healthy for most of the time. He was a very strong dog physically and mentally and didn't let much bother him. We still miss him.
Regina and David Steiner