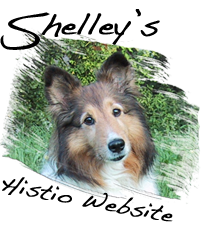 HOME

To the ENGLISH website

Naar NEDERLANDSE website

Contact me
YOUR HISTIO STORY
I am looking for similarities
in all individual cases of
Histiocytic diseases.
I wonder if we all tell our
stories we might come up
with some commonality
between the specific
situations in which all of
our pets got this disease.
So please email me the
details and I'll put your
pets story on Shelley's
Histio Website
UW HISTIO VERHAAL
Ik ben op zoek naar
overeenkomsten in alle
individuele gevallen van
Histiocytose.
Ik hoop dat wanneer wij
onze Histio verhalen
vertellen, wij overeen-
komsten ontdekken over
de manier waarop onze
huisdieren deze ziekte
hebben opgelopen.
Stuur mij de details en
ik zal het verhaal van uw
huisdier op de Histio
website van Shelley zetten.
WARNING !
These stories are all
different. Individual
symptoms, situations
and circumstances
may vary and response to
therapy is not always the
same.
- Disclaimer -
WAARSCHUWING !
Deze verhalen zijn allemaal
verschillend. Individuele
symptomen, situaties en
omstandigheden kunnen
verschillen en de reactie
op therapie is niet altijd
hetzelfde.
- Disclaimer -

HISTIOCYTOSIS IN
OTHER LANGUAGES
German - Hund
Maligner Histiozytose
French - Chien
l'Histiocytose Maligne
Italian - Canis
Maligni Histiocytosis
Spanish - Perros
Histiocitosis Maligna
Dutch - Hond
Maligne Histiocytose
HOME
Mason
Histiocytic Sarcoma
Golden Retriever
Male
July 15, 2002 - still with us!!!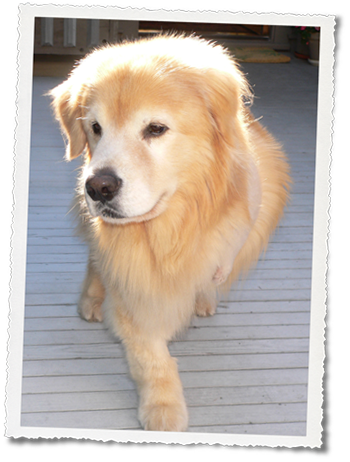 Mason is a 6 year old strong, handsome, lovable Golden retriever. He loves to run and jump, and is a real 'party animal'.
Shortly after his 6th birthday we noticed he was favoring his left paw but we could find nothing to cause any concern. One day I felt a lump above the elbow of the left leg. We immediately took him to the vet for xrays and biopsy. We were referred to a local oncology group. They determined that the mass was firm and fixed to deeper tissues with no bone involvement. There was no sign of matastisis in the chest and abdomen. They did two punch biopsies and sent slides to Davis. We waited anxiously for 2 weeks to get the final diagnosis of histiocytic sarcoma. The oncologist was very realistic and honest with us. She felt that an amputation of the left leg could give him a chance.
He had the amputation on August 28th, 2008 and has made a remarkable recovery. There was one lymph node which tested positive, but was removed at the time of surgery. He began chemo treatment September 18th. Mason is getting CCNU (Lomustine). He takes Denosyl daily and Cephalexin (antibiotic) twice a day. They check his blood and liver one week after chemo and again 3 weeks later before giving the next dose. He is also taking Demosyl, a nutriional supplement to protect the liver, and an antibiotic. His energy is improving each day. He loves to run, jumps in and out of the car and is taking stairs 3 at a time. He has even been swimming twice. His appetite is excellent, as always.
Chemo protocol for Mason




- Denosyl Daily (this is a nutritional supplement to protect the liver)
- Cephalexin (antibiotic) twice a day
- CCNU (Lomustine) every three weeks



This drug was studied in canines by the "Tufts University School of Veterinary Medicine. The study shows antitumor activity of CCNU against canine malignant lymphoma."

The vet must do a complete blood count and platelet count one week after the CCNU is given to determine whether the dose can be given the next time. Too much suppression requires that the dosage be held until counts come back up.

Note: This is not curative, but rather palliative. It does give the dog a fairly good quality of life. Decreased appetitie, diarrhea and fever are the side effects. But side effects can be controlled with diet and medication.
Update November 1, 2008
Mason is doing very well. It has been two months since surgery. There are no signs of metastasis. He has now had three chemo treatments (pills) and shows no ill effects. He enjoys his food, can take 30 min. walks and runs with abandon chasing the frisbee. He jumps into and out of the car (and our bed).
Update February 18, 2009
Things are going well for Mason. It has been 6 months since his amputation. He continues to enjoy a very active life. He does tire after walking a block or so, but after a few minutes of rest he is ready to go again. When off leash he runs very fast and seems to be more balanced when going at his own pace - (which is full speed ahead! ) He is on no further medication since completing the 6 doses of CCNU. His lungs are clear. We will take him for a check-up in 6 months or so. We remain realistically optimistic.
Update August 30, 2009
It has been one year since Mason's amputation. He is doing very well! There are no further signs of the disease at this time. He swims, runs and jumps.....a very happy dog.
We are happy to have this loving dog in our lives. I will keep you posted on his progress.
Thank you,
Grace

To our Histio website in English

Naar onze Histio website in het Nederlands

Be sure to seek the advice of your veterinarian about any question you may have
regarding your pet's health and behavior.
No diagnosis can be done without a veterinarian actually seeing and examining the patient.
DOG OWNERS SHOULD REPORT ALL CASES OF HISTIO TO THE BREEDER AND THE BREED CLUB!