December 7, 2009
My poor dog, a beautiful Rhodesian Ridgeback, was diagnosed with this nasty disease which is very similar to AIDS, although not contagious. She is only 3 years old. She was ill 2 months ago, not eating, loosing weight, seemed depressed and did not want to go for any walks. The vet did tests and she was very Anemic, and her liver was scarred. They carried out an ultra scan which displayed her spleen bleeding inside. An emergency OP was carried out and the spleen removed. A week later I was advised the spleen looked like 'bubble wrap', and it came back as cancerous and Malignant. She was diagnosed with Histiocytic Sarcoma. Its an ugly name. I was not offered chemo as I was told dogs with chemo do not respond to this.
They carried out an Xray to see if it went to her chest or lungs and there was no sign 6 wks ago.
Anyway she recovered well, but the vets confirmed last week she is still anemic, and they want to know why. They did another x-ray to her chest, and this showed a very small shadow (specks), although they are telling me she could have bronchial problems, and that may be what it is or it could be a tumour. We wont know until they x-ray her again in a couple of weeks or so, as she is currently on Anti-biotics. And if she has a bronchial issue, the anti-biotics should clear it up.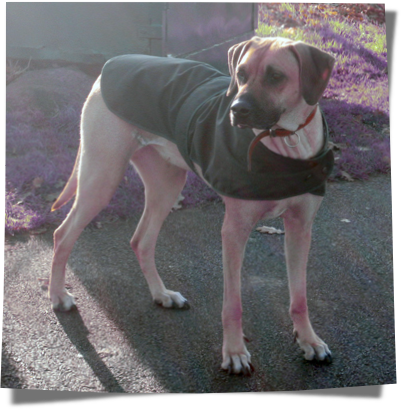 They have done more tests with the anemia as it looks like she is trying to regenerate her red blood cells but they are being destroyed by her body, who recongnises them as foreign bodied.
She only walks in the mornings. She put on a stone in weight (the weight she initally lost when she first became ill), but is very fussy and will only eat people food with meat and gravy. A lot of the time she sleeps and is lethargic, and lacks energy.
I am so tired and worried that I will lose her, as I love her to bits. I pray in Jesus' name he will heal my dog and all your dogs that have picked up on this horrid illness. I hope a cure is found.
UPDATE - February 25, 2009
Nala is doing well!
We did see the vet about 3 wks ago for the check with her lung/chest and the shadow is still there from before but still same size as before. No bigger. Her next x-ray is in May.
Now the weather is milder, she seems more sociable and has been telling me she wants to go out by walking to the door! She likes her short 15 mins walks. The anemia is still there, some days her gums are pinkier and a couple of off days with pale gums. She also has bouts of diarrhea quite frequently.
UPDATE - March 23, 2009
I have stopped the transfer factors as it was probably the cause of the diarrhea bouts. Nala's red blood cells went down, lower than its ever been, and she had to have a shot of vitamin B at the vets on saturday. She seems weak cause of the low red cells and she wont go for walks now, too weak for the moment. I will take her back in two weeks time for repeat blood test and she may possibly need fortnightly Vitamin D injections. I have ordered her some garlic capsules for dogs.
UPDATE - April 29, 2009
Nala picked up an infection over Easter, she could not eat at all and had terrible diarrhea. I contacted the vet and she advised me that due to Nala's red blood cells being so low (over the last 2 tests she had prior to Easter) she did not recommend giving her an antibiotic as she felt it would not do anything and that it was the best time to let her go. I could not come to terms with not trying an antibiotic to kill it off and see if she had any chance of improving, I suggested I would monitor how Nala was that evening and make a decision.
That night which was a Tuesday night, 14 April, I slept with Nala in the room and as she was so weak, she could not get up to go toilet, she had not eaten for 24 hours, so I had to lift her to take her in the garden to urinate.  That night, her temperature was very high, I did not have a thermometer but I felt how hot she was, and she was drinking lots of water, and I was bathing her down most of the night. I noticed she began to lose her breath when drinking, short of breath, and she also started to have diarrhea etching itself out of her. By the morning I cleaned her up, tried to feed her but she still refused to eat.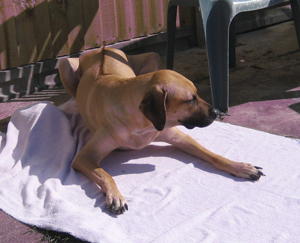 On the 15 April I rang the vet and spoke to the male vet who carried out the 1st major operation when he removed her spleen back in October 2008. I asked his opinion and told him what the other vet suggested and he felt although the other vet was technically right, he was not one for just putting a dog down without trying another alternative to see if it would help. So I was in agreement and I arranged transportation to take Nala straight to the vet to have an injection of antibiotics and he also gave her something to bring her temperature down. 
I brought her back home and she was comfortable and I stayed with her throughout. I tried to coax her to eat but she refused. Wednesday night her infection did subside and nothing more was coming out, and her temperature went to normal rate. So I hoped there still was a chance. But it then became 48 hours of no food, and as she became weaker, I found I had to help her to drink water, splashing water over her mouth, raising the water bowl under her mouth and holding her head.
Wednesday night I picked her up into the garden to urinate. She was becoming weaker but at the same time she was stressed with me holding her, as she was such a large breed dog, I expect she was frightened I would drop her, and I know she wanted to yelp when I was holding her with my arm under her stomach but she did not have the energy to cry. I did my back from carrying her and decided I would put a plastic sheet under her covers for any urination. I did not want to stress her anymore, plus I did my back in in the whole process!
On Thursday evening I gave her some warm chicken soup as she refused to eat anything. I had to open her mouth whilst she laid on her side and spoon feed the fluid into her mouth, she was swallowing it and it went into her system, half a tin of chicken soup. She also had a few mouthfuls of yogurt which she liked, but was so weak to chew or open her mouth and swallow. I had already that day made the arrangements for Friday the 17 April to take her out of her misery as I was warned about lack of oxygen in her body and although she could not tell me, she would begin to feel pain, cramps from very low red cells.
I hoped for a miracle to happen.
On Friday I gave her the other half of the chicken soup in the morning at 8 am, and 9 am whilst I was on the phone to my job, she stood up! I could not believe that, and had to go over and grab her, and tell her to sit down, as I did not want her to collapse and fall on her face out of weakness! I rang the vets after, as I was thinking should I postpone for another day or so? The vet was to call me back before he was due to leave his surgery which was not till after midday. So I decided I would monitor and see if there were any further developments over the next 3 hours.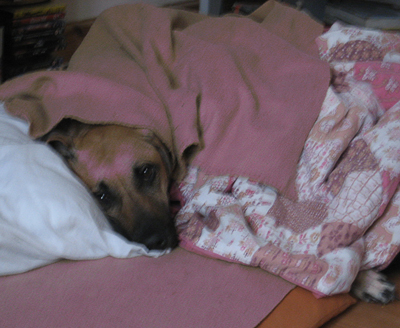 She was laying there for 3 hours, very sad eyes, and I noticed she started to jitter, (shake), kind of like a automatic spasm. She was not cold as she was kept warm with a blanket and covers, I cuddled her and it stopped.. It then started again for a few more seconds and again when I put my arms around her it stopped. That was that.
By midday there was not much more happening. The vet called me and I told him on the phone about the fact I made her eat chicken soup the night before and that morning and that she stood up at 9 am that morning, and I was hoping for further development but as it was, the situation remained the same with no more change since 9 am. I told him Nala looked so sad, and about the jittering and that I think the jittering was lack of oxygen and I did not want her to suffer any pain as she can't tell me if she is feeling pain.
He advised me that the developments she had was not enough to prolong letting her go. He hoped there was a massive improvement but as it stood it was kinder to let her go, and i agreed.
I laid with Nala for half an hour chatting to her and telling her how Nanny (my mum) and Nick (my brother) were so pleased to see her on Easter Sunday, and her ears pricked as she knew who I was talking about, and she loved them, especially my mum. She was so happy on Easter Sunday when she saw them. I told her she would go to a better world with God who will look after her with his angels, and she will be with lots of doggy friends, and will be happy , not trapped with illness anymore. I told her she will be free, that I did not want her to suffer anymore, and that she was part of my soul, that I loved and will love her always and am glad to have had her no matter such a short time.
I mentioned my son's name to her, as she she has not seen him for 1 year as he is away, and I told her she will see him one day in the future and we will all be together again! I told her to wait for me when it is my time to pass over, that we will be reunited again in the future. I gave her lots of cuddles, kisses, and of course there were tears.
When the vet came round with the nurse Emma, Nala wagged her tail, as she was happy to see Emma! That was very hard. But I decided that I wanted her to be given a sedative first, and it was about 15 minutes later she was put to sleep.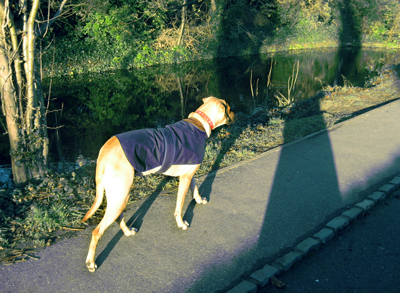 The pain is unbearable. It has been the hardest decision I ever had to make as I really did not want to let her go, but to prolong it would mean further pain to her.
Nala was cremated and I have given her a memorial section in my garden where some of her ashes are scattered. She has a beautiful lavender plant and other plants next to it with her favourite squeaky pig and ball siting there.
I have her pictures all around me and I feel although she is gone, her spirit is still with me in our home. 
She is as my sister tells me not gone, just on the other side, where we will be reunited again in the future.
Till then I doubt I will be able to have another dog again, she was my first and my last. I love her forever in my heart. She is with Shelley and all the other lovely dogs on here.
The vet told me the average time -span from diagnosis of the illness is 2 months! And that Nala exceeded to 6 months. Nala was a fighter anyway in general and she is missed by all her human friends at Heron's, Karen her dog career, Nina and Emma the Nurses, Sarah the vet and of course my son who was heartbroken and me and my family.
It poured with rain the day she passed over, as if the world was sad and at a standstill when the heavens opened for her, nature was in tears.
Alexandra - Nala's mummy, originally from North London UK