Story submitted by Graham Hebson
We originally planned on only getting Otis but after talking with the breeder we decided to get his "brother" Angus as well; he told us he was having a hard time finding someone for him and was starting to run out of options. We thought they were literally brothers but when we received their vet records we found out they were from different litters and born 3 days apart. We weren't happy with the way things went down with the breeder but that is a story for a different day. We picked up the boys when they were 8 weeks old and we were so happy, they were great pups and got along really well. Otis was the smaller puppy but grew into a bigger dog than Angus. Otis grew into an amazing dog, he had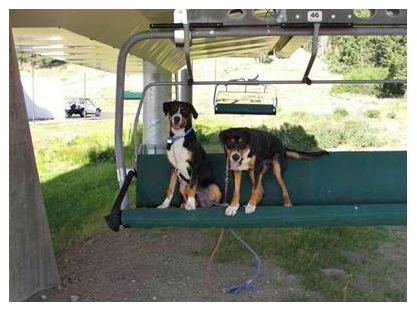 so much personality and was so quirky. He loved to play keep away, but would always come when he knew the game was over. When I would come home from work he would run up to me to greet me then try to run away before I could give him a big bear hug. Once I got him he would wrap himself around me like a bench with his head at my waist looking for some attention. Then he would go to the living room and shout his calling bark a-woo-woo-woo a few times to signal he wanted to play or go for a walk. When we would walk he would zig-zag as far as his leash would let him and step all over our feet. He also loved to trot, he would wait for us to get in front of him then trot on by like he was a horse. He did this so often that some of our neighbors started calling him prancer. He was great with the neighborhood kids and sometimes we would let the little ones ride him because he was so big. He loved it! He had more personality than any dog I have owned or been around in 31 years.
This is were the sad part comes. Everything was going along fine, he was in good health (so we thought), playful, energetic, his normal self. Thursday night 8/25/11 he threw up on the floor in the house after his dinner. Usually when he would vomit there would be some warning and you could tell he was trying to induce it himself like all dogs do. This was a little different, he was getting some attention from my wife and just let it go without warning. We thought this to be a little strange but we had just given him a different type of food so we thought he might be allergic. We fed them Purina pro-plan chicken, and my wife accidentally bought the sensitive stomach formula of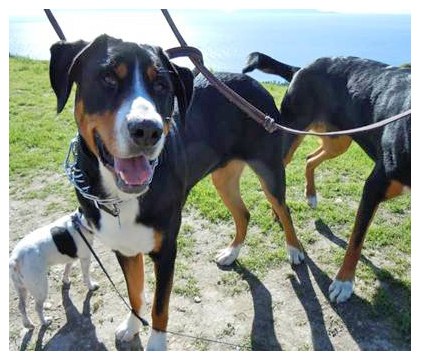 the same brand, the packaging looks very similar. It didn't seem like a big deal as he was acting normal. Friday everything was fine, we got up Saturday, fed them and headed out for an overnight trip on our boat, the boys were staying at home. My Mom went by our house to let them in and feed them dinner. She stayed with them for about 2 hours and played, she said he was acting totally normal and she is around them all the time. Sunday morning my Dad let them out and fed them, he also said he was acting totally normal and was happy. When we came home at around 5pm Sunday evening I went to the back door and Angus came running inside to say hello but I noticed something was seriously wrong with Otis. He was just standing there panting and I could tell something was up. I got him to come in and he wasn't walking very well. I got him to drink some water and helped him on the couch. I started doing a little research on heat exhaustion and heat stroke as he was outside all day but it wasn't that hot and we have shade in our yard.
We thought about taking him to the emergency vet but he seemed like he was getting a little better and we could take him in the morning to our regular vet who knows him well. We put him on our bed and let him sleep with us so we could monitor him throughout the night. Monday morning I helped him down off the bed and outside to go to the bathroom. He wasn't walking very well and was very lethargic. I also noticed a big lump behind his rib cage. We got him to the vet for some xrays and a blood test. It came back showing he was very anemic at about 24, normal is 33, his white cell count was pretty normal however, and his spleen was extremely enlarged. We were referred to a specialist that also has a blood bank incase he needed a transfusion. He was still the same Monday evening and we put him on the bed to sleep with us so we could keep an eye on him throughout the night. On Tuesday morning I took him to the specialist and she was a little unsure what it could be. We thought about a tick borne disease or hysticosarcosis. She didn't think it was a tick disease because his spleen was soooo big. She did an aspirate of his spleen to send to the lab and we would get the results the following day 8/31/11. She sent me home with some doxycyclene incase it was the tick disease. Tuesday night was no different than the previous 2, he ate a little but not much and was still very lethargic. We sat with him and petted him for hours, he seemed happy but was definitely suffering. I got him up on Wednesday morning and took him outside to go to the bathroom, this time I had to help him down the stairs.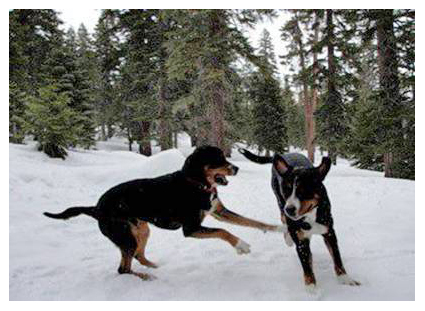 When he started to urinate it was blood. I could tell he was getting worse so I rushed him to the emergency vet which was also our specialist. They did another blood test and his red blood cell count was now at 22, down 2 points from the day before. While we were there the lab results came in and he was positive for Hystiocytic Sarcoma (disseminated). I spoke with the oncologist and had been researching the disease, so I knew the outlook was very, very bad. Even with a splenectomy and chemo he would have about 4-6 months tops. I didn't want to put him through that pain and suffering knowing he had such a short window but I wanted to talk to my wife about it. Otis and I headed home and my wife was coming home at 2pm. I stopped and picked him up some grilled chicken for lunch which he was happy to eat and I told her the diagnosis and what the outlook was. We were completely in shock, meanwhile he was getting worse, still urinating blood. After a few hours we decided we couldn't stand to seem him suffering anymore and called our vet at 5pm to make an appointment to put him down the following day. I took him outside one more time and same thing with the blood although this time he dripped some on the floor on the way in and he was getting much worse, I wasn't sure if he would even make it through the night.
I called the vet back at 5:30 and we took him in for the last time. It was the hardest thing we have ever had to do and we love him dearly. I held him in my arms while he breathed his last breath and had my hand on his heart until I felt it stop beating. It was so sad to lose my beloved friend 43 days shy of his 3rd birthday. We are all devastated and his brother Angus doesn't know what to do, he keeps looking for him, sniffing Otis' favorite spots in the house and is depressed. He seems to be getting better as each day goes by but it is heartbreaking to see. We miss Otis dearly and he will forever be in our hearts. What a good boy.