Submitted by Marta.
My name is Marta, I live in Italy and my border collie Rose has been diagnosed with a histiocytic sarcoma. She is still alive at the moment and I'd like to share details of her story to help other people who can have same awful problem. I'm sorry for my english, I hope is understandable.
Rose is an energic, joyful, strong 4 years old border collie. She is my dream dog, I have waited for her since before her birth, I even went in Wales for the mating of her parents with her breeder. I already had 2 border collies but they had health problems so I cannot really follow my passion with them: herding.

So Rose came, and she was super brilliant in everything, we did a lot of activities (agility, obedience, herding sheep) and she has always been strong and healthy. The first strange thing she had was in the spring 2013 when she had her entire body covered by purpura due to a vasculities. We run a lot of tests but nothing helped to understand what caused it. In any case she was better in about a month and totally ok until the next spring: same time, same symptoms. So we supposed was related to some herbs in my garden growing up in spring. I don't know if this has anything to do with her histiocytic sarcoma now but in any case can be useful to know.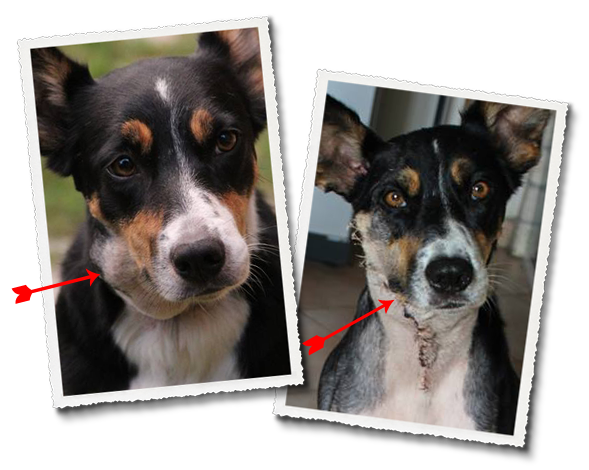 Except that, as I said she was healthy and strong.

I've noticed something strange in June of this year when at our first agility competition the second day she seemed really tired and jumped obstacles just to please me (and I saw very clearly). But was a warm day, a lot of emotion for me so I didn't think something could be really wrong with her.

In July 2014 one morning I noticed a retromadibular lymph node swollen, I was pretty sure the day before she had nothing. So I waited one day and then went to the clinic, we did a citologic exam and resulted in a reactive lymph node, nothing to worry about.

In the next days the lymph node didn't grow up but became really hard, like a stone, so I went back to the clinic and we decided to have it removed and analized but no hurry. In the mean time I had some health problems with my other 2 dogs so Rose had to wait a little. In August she was in heat so we decided to wait the end of her heat. In the few last days of her heat I noticed the lymph node was changing his shape and maybe growing a little and she seemed annoyed by it. So again back to the vet and we took an appointment soon for a biopsy.

From that moment everything seemed so slow and fast at the same time, curious feeling. I was in hurry for the results because that lump suddenly started growing so fast that can duplicate his size in one day. It was horrifying. The laboratory seemed to have big problems understanding the nature of the lump, but was very clear it was something bad. First they said maybe a salivar gland tumor, then lymphoma but they were not able to make a diagnosis so they asked for more cytologic samples. We took ELEVEN samples and running out of time we sent. Again they said it was really complicated and they should run more tests (Immunochemistry) because the first ones failed. In the end they finally gave us a name and a diagnosis: malignant histocytosis.
A lot of vets were following Rose problem at that moment and was really hard for me to be calm and rational on the next steps. In the meaning time the lump became bigger and bigger and Rose had problem eating, so I stopped dry food and started with coocked meat.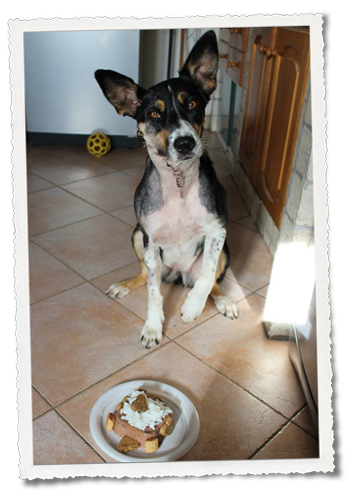 The vets contacted the best onchologist in Italy (and maybe Europe) and looking at all referts she said that had some doubts about the diagnosis.
My world went in million of pieces.
It needed so much in time and efforts from everyone to came at a diagnosis!

So I took a decision, the best in my opinion at that time, to have a sugery, remove the lump and send to another laboratory suggested from the oncologist. That maybe couldn't save her but at least give her a bit of time more and let her eat.
Rose went in surgery on the 9th September, they were able to remove 3 lumps (the first one and other 2 new).
After surgery Rose was doing quite fine and recovering well. We just had to wait for the new results.

After 1 week from the sugery another lymph node suddenly started to grow up on the opposite side in the same position and a prescapular on the same side of the sugery too. It was a defeat for me and still no results. they were all Lymph nodes but I could also feel what was most probably the primary tumor, located above her trachea.
I decided to start treating her for histiocytic sarcoma in any case, before it was too late. On the 2nd October she had her first Lomoustine and in the same time arrived also the confirm from new laboratory of the same diagnosis.

First 4 days of chemo were quite good, no sides effects but I felt the lumps still growing. Then they finally started to get smaller and smaller every day. Rose become stronger and after 10 days she was my "old" Rose, full of energies and happy. She never stopped eating and she really had no problems with Lomoustine but regression stopped at one point and lumps started growing up (slowly) again.

At 21th days from the first treatment we run blood tests to see if her cell count and liver enzimes were ok before doing another treatment. Luckily she resulted in perfect conditions so on 23rd of October she had her second pills of Lomoustine.
Again no side effects in the first days but yesterday (6th day after chemo) she suddenly became lame and not reactive, she refused food and she was really warm so I took her to the vet clinic: 40.5 C° temperature. She is now on antibiotics and I really hope she will make trough it. She has fought so much that we cannot loose now for a stupid infection.
Since this all began, the only thing I was sure about, is that I will never allow her to suffer just to be here. If chemo has bad effects on her I will not esitate one second to stop. Quality life for her means she can be happy and do what she likes most, working with me, not just lay on the sofa. So in the moment she cannot be happy anymore I know what I have to do.
UPDATE
She had 3 chemo treatments and she was fine but since the second I've noticed the lump began to grow up again, slowly but constantly.
So in December she had again 3 big lumps on her shoulder, giving her a lot of pain. She started breathing strange, incapable of expanding her chest a lot but never with her mouth open. I decided it was not worth to make a 4th chemo treatment in that condition because it was certainly not working anymore. So we spent our last month together mostly having fun as long as she could. The tumor grew very fast and on 27th December I called the vet to give her peace. It was really hard because she was in a lot of pain since some days but she was still trying to eat and do her best, but I promised her to avoid suffering so it was time for her to stop having pain.
Rose lived 4 months after diagnosis, I know a lot of dogs with this disease live less so we were kind of blessed, I suppose.