Thank you for creating Shelly's web page. It was such a comfort to me after I lost my Golden, Sally, to this horrific disease to find that I was not alone. In honor of her, I would like to add her story to the list of dogs.
Sally was a wonderful, happy Golden. She never met a stranger, and thought everyone should love her as she loved them. I trained her in agility, but she keep greeting the judges in the ring rather than concentrate on business. Either that, or she would leave the ring when she saw her family, even when they thought they were well hidden! We just had to laugh, because that was her, just too many people to meet in this world.
Sally started off with a cough on September 12, 2006. It lingered for a few days, so I took her to the vet. He thought that she might have some burrs stuck in her throat since we had been on a long walk in the woods, and she picked up a lot of burrs, and maybe had picked some off before I got to them all. He gave a shot of prednisone and some antibiotics. She seemed to get better, so we increased the course of antibiotics to 10 days instead of the 7. She was still eating, and her usual playful self. Then on Sunday, September 24, she vomited several times, and picked at her food. Picking at her food was very,very unusual. She usually inhaled her dinner. Monday morning, Sally refused to eat. I had her antibiotic in peanut butter, and she refused that also. That day she had x-rays and blood work, and the x-rays showed a cancerous pattern in her lungs, but the blood was within normal ranges, and no cancer showed up. We gave her prescription dog food that night and she gobbled it up in her usual vigor. Tuesday morning she refused the dog food, but did a " Frosty Paw" . Since he symptoms developed so fast, the vet thought that it could not be cancer, so he performed a tracheal wash with only some bacteria showing up in the cytology. so we tried a different antibiotic, with an anti-nausea pill since she was having trouble keeping food down. On Wednesday, friends from out of town came to see her. Her appetite was poor, but she was happy to see them. We took her to her favorite swimming hole, in the rain, but she had fun. She begged for some of her cookies that night. The last time she asked for food.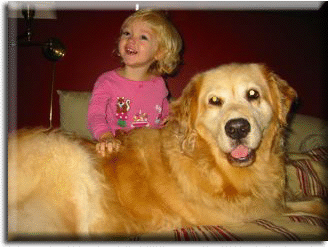 On Thursday, September 28, our vet said that there was nothing more that they could do for Sally, and sent us to Michigan State University Veterinary Clinic. There, they did all of the tests, x-rays, etc. and thought it was cancer, but could not find the main source. The ultrasound of her liver and spleen, and the aspirations of her lung, and spleen all proved inconclusive, they sent her home with us with a again another antibiotic and anti-nausea med. They thought it was some kind of infection based on the tracheal wash, and she came home with us.
After a very quiet Sunday, on Monday, October 1, she was still throwing up, and becoming dehydrated, we took her to our local vet. He put her on IV fluids, she perked up, and did eat some and we were all encouraged. Tuesday night, she started to vomit again. Wednesday, we decided to do a lung biopsy. We took her back to Michigan State, where they performed a bronchial wash, and another lung aspiration, before they would do the lung biopsy. Still nothing showed up, other than the bacteria. Sally was on IV, and getting IV anti-nausea meds and antibiotics, still she was failing. Her breathing was becoming very labored, the cough was still there, and she still was refusing to eat...even roast beef and turkey. She would greet us with her usual joyful manner and tail wags, but shortly, she would go to a corner to sleep. She was getting so weak losing almost 10 pounds in this short time. On Friday, October 6, we agreed that the next day, we would try a feeding tube, and maybe she would start eating again, and do the lung biopsy on Monday morning. Her prognosis was becoming poorer and poorer. The vets suspected cancer or a fungal disease. The anitfungal medicine is strong, and if a dog makes it through the first 7 days of it, then there is a chance of recovery. My husband has cancer, and from his reactions to the chemo, I knew that I would not do that to Sally, even though I was assured chemo is not they same in pets as it is in humans. I was despondent, and we still did not know what was wrong with our dear Sally.
On Saturday morning, October 7, 2006, Michigan State called, they could not get the feeding tube in Sally, so they were going to put it in her jugular vein. It took all of the courage in the world, but I said enough. Her chances of recovery were so poor, and she was suffering, I decided to put her down. Sally greeted us with her usual happy greeting, and then she went to sleep in my arms. It was not until the necropsy that we found out she malignant histiocystosis. It was in her lungs, lymph nodes and brain. Sally had a wonderful and happy life. Her joy of living spread to us, and she is missed more than words can say.
Barbara Brunner