As the symptoms of Malignant Histiocytosis can be very vague, diagnosis can take months. In Shelley's case the time between her first symptom and the actual diagnosis was 3 and a half nerve wrecking months. She died 5 months after her first symptoms.
Shelley was my heart dog. That once in a lifetime, wonderful and sweet companion. She was almost 11 when I noticed that she was limping and acted 'not herself' during the morning walk on April 1st 2001, so I monitored her closely that day and decided to take her temperature. As it was 40.7°C/105,3°F, I rushed her to the vet who told me she might have a kidney inflammation and decided to treat her with antibiotics. That same evening her temperature dropped to 39 °C. But two weeks later when we stopped the antibiotics, the fever returned. Another antibiotic was given, but again, the minute we stopped the antibiotics, her fever flared up to 40°C/105°F and more.
During these recurrent fever periods she was lethargic, would sleep the entire day, limped, had trembling ears and a very rapid breathing. She would finish her dish last and would trudge behind me, instead of leaping and bounding around me, chasing squirrels or rabbits and bark, bark, bark.
Nothing obviously wrong except her recurrent fevers and the limp. Every new fit of fever made me run to the vet and at one point one of my vets colleagues said: "That dog is NOT ill. It's all in your mind!" It made me furious, but there was nothing more I could do than trouble my vet over and over again. After 7 weeks and numerous blood- and urine tests, one of the bloodtest showed an extreme low T4 level. But as fever normally doesn't show as a sign of a slow thyroid, and the medication (L-Thyroxine) did not prevent fevers from occurring now and then, we thought it would probably be a secondary thyroid problem caused by something else. Back to square one! What was bugging Shelley? As my vet didn't know it either he recommended an internal medicine specialist at a vet hospital.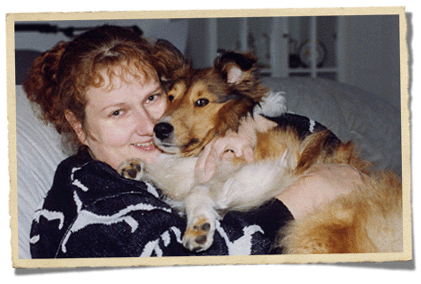 The internist started his search (on my request) with yet another bloodtest including tests for several tick borne diseases, but her bloodwork was within normal ranges. An ultrasound of her heart, liver, kidneys, bladder etc. showed no abnormalities, except for her bladder which contained an enormous amount of small stones. But that could not be the cause of her recurrent fevers. The Internist decided to draw blood during a fever attack. So we were sent home to wait for the next fit of fever.
While waiting for the new fit of fever the internist kept looking for clues and kept me informed via e-mail. At some point he wrote that he thought she might have had an immune mediated inflammation. As I was trying to find everything possible about this disease on the internet, I found out that it could possibly have been triggered by the rabies vaccination she was given two weeks prior to her problems. Jean Dodds, a veterinarian studying immunology, feels that multivalent modified live vaccines overstimulate the immune system and can cause all sorts of problems.
In July we were dealt a cruel blow. Nobody had really paid any attention to her chronic limping until we decided to ask the internist for an x-ray. As she also had developed a slight cough, the internist ordered an x-ray of the lungs as well. The x-ray of her paw showed an unknown abnormality and the x-ray of her lungs revealed that Shelley's lungs had one obvious growth and a lung-shadowing. The internist said it could either be two abscesses or cancer, but he wished to consult with a local canine radiologist first. We had to wait another week for the results.
The radiologist said she was sure it was cancer, so an ultrasound and needle biopsy were scheduled that very same day. After yet another week the call and diagnosis devastated us: "Malignant Histiocytosis". We were told this was a death sentence. It is a rare, invariably fatal disorder. There was nothing we could do for her and Chemo therapy or Radiation were not an option. We were sent home to wait and watch our dog die. The only medicine she was given, was Cortaphen Forte, which is an anti-inflammatory painkiller. The Cortaphen Forte worked wonders. It suppressed the fevers and with this medicine she could live an apparent normal life.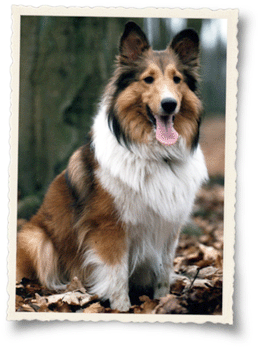 After another month we had a second x-ray done and the outcome was horrid. The growth had grown rapidly (almost twice it's size in a month). The lung-shadowing remained the same, but a second shadow popped up. Not as clear as the first one, but definitely the start of a third tumor. The internist said she had at best, 2 more months to live. But when I saw the size of that growth I doubted if she would make that prediction.
Fortunately Shelley was still doing great. No signs of discomfort yet. She seemed to be the picture of glowing health, probably due to the Cortaphen Forte. The only symptom left was her rapid breathing. She seemed happy and was quite playful for a dog her age. She astonished me with her speed in chasing the ball or a rabbit. She had an enormous appetite and finished her dish long before the other two. I spoiled her rotten with more food than she ought to get and hugged her a lot. What more could we do? Waiting for Shelley to get real sick was nerve wrecking, but it would have been selfish to have her put to sleep while she was still happy, playful and in good condition.
On September 5th our world definitely crashed in on us. At 1600 hours we went out for our afternoon walk at the beach with Shelley and the other two bouncing and dashing about as usual. They were running and bounding in and out the water and had a wonderful time. We were one happy family. But when we arrived home, Shelley refused her medicines. I gave her some food instead and she ate it quickly, only to throw it up minutes later. I noticed some blood in her vomit and instantly knew this was trouble. She kept vomiting and in a matter of minutes she was in shock. She did not react to our voices, was depressed, had labored breathing. I saw she had no color in her tongue or any of her mucous membranes and we could hardly feel blood pressure. This looked really bad. She weakened by the minute and we knew we could not allow her to suffer any longer. We had our vet put her to sleep at 20.00 hours that same evening. When the vet gave her the lethal injection I held her and saw the little twitching of the muscles in her muzzle and I swear I saw her smile!
We feel very lucky to have had her as long as we did, cause many get much less than that. I also know that she had a wonderful life with us and she will live forever in our hearts. I'm also very grateful that we got the chance to say goodbye properly, but we miss her terribly.
As almost every type of illness can occur due to a weakening in the immune system, as it makes the body more vulnerable to disease, I still have a feeling that this disease has been triggered by the rabies shot. If only I could find some info to endorse this feeling.......
Goodbye my sweet, beloved, FOREVER DOG. This website is in your honor..
Be assured that I will never stop searching for answers, how silly or stupid my quest may seem to some people.
Mo