March 2005
My Golden Retreiver, Spencer, was recently diagnosed with Malignant Histiocytosis, a dreadful disease.  He is four years old, he will be five in May.  So far he is doing well, but I am uncertain how long this will last.
The cancer was found in his leg.  In his left elbow to be exact.  He had surgery on this elbow at 6 months to correct a cartlidge flap and to shortne the ulna.  He recovered wonderfully then began limping last fall.  I took him to our vet who diagnosed arthritis.  We treated him with several different meds and the limp did not improve.  In December we took him to Colorado State University Vet Teaching Hospital where we discussed options and he was put on different meds, still thinking arthritis.
 
In early February 2005 the elbow swelled terribly and he would no longer put weight on it. I took him to our vet here in Cheyenne, who took x-rays and said there was a mass, and suggested it could be either infection or cancer.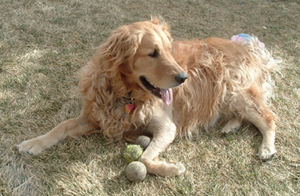 He gave him a shot of morphine for the pain, and I called CSU to see if they could see him the same day.  We were able to get a late afternoon appointment so we took him to another orthopedic specialist.  She was a sweetheart. They took more x-rays, she also believed it was infection or cancer based on x-rays.  They attempted to do a needle biopsy but were unable to withdraw much fluid as it was too thick.  We agreed to leave him overnight, on pain meds, and they operated the following day, Thursday, Feb. 10th.  They found large quantities of pus, serious infection, took samples for a biopsy, but that night as we took him home we were thrilled as we were told they found "no evidence of cancer."  We had lots of meds for infection, anti-inflammatory, pain, etc.  But we were HAPPY!
The picture was taken the day following surgery.  He was on pain meds and not looking his best, but he recovered rapidly, especially since Mom hand fed him boiled chicken and broth!!
 
The following Tuesday the surgeon called to say that the biopsy had come back positive for cancer -- she did not mention MH, and said that because the site of the cancer was so unusual she was requesting a second opinion.  So we waited....a week later she phoned with the terrible news, and prognosis.  I just fell apart.
 
I did read some of the other stories on your site, and they just broke my heart.  Spencer is not sick yet--in fact is happy and playful despite a new swelling in the elbow.  I know this is not a good sign.  I have spoken with my vet here and we have discussed amputation, but do not know if this would give him a lot of time, or just a short time---I will not put him through such a traumatic surgery if it will only extend his life a short time.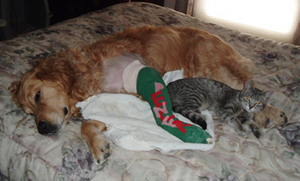 To see him now you would not know that he is ill--so the stories really frightened me in terms of what may be soon to come.  It is unbearable at this point for me to think of this happening to my beloved Spencer--but I will never let him suffer.  This is all so heartbreaking!!
 
I want to spend every minute with Spence. I would mortgage my home for this child!!  I just wish the prognosis was more hopeful.
 
I am waiting for a call from his surgeon at CSU to see if there are any clinical studies regarding amputation.  Thus far he is not sick and we can take him back to CSU for ultrasounds to see if the cancer has spread to the major organs.  It is just an option I want to explore--but do know that I will do what is best for Spence---even as my heart is breaking.  He is my beloved child!!
We went to the vet Friday March 18, 2005 and he confirmed what I already new--the new growth in his elbow is a new tumor.  We are not going to do anything about it at this time, no more surgeries.  He does have a significant limp, but he is taking anti-inflammatories and now has started on Prednisone.  Hopefully this will help.
Update September 2, 2005
We lost Spencer tonight.  He was clearly failing all day, I believe his organs were shutting down rapidly.  He laid out back all day and never moved once. He didn't get up to potty or anything.  We took water to him and he did drink but refused all food.  I cooked some chicken for dinner and took it outside. He just turned his head away.  By 8:00 neither Chuck or I could stand it anymore.  It took about 10 times for me to dial the vet's number--just kept hanging up.  Finally we did what we knew we had to do.  He is no longer in pain.
 
Chuck and I are just numb. I do not think the impact has hit me yet. We will have him creamated and bring his ashes home, maybe will scatter... can't think right now.
 
Thank you for hearing our story.
Janis and Chuck Vanover