Susy is my Golden Retreiver. I got her as a 6 weeks old pup, in december 1998. She was the easiest dog to house train and learn her manners (always 1st at puppy pre school), health wise she has never had a problem, a few paralysis ticks, but she got through that no problems.
So Dec 2006 she developed a big lump on the back of her neck. We went to the vet and she had a big operation and had it removed. They said it was a fatty mass, nothing else.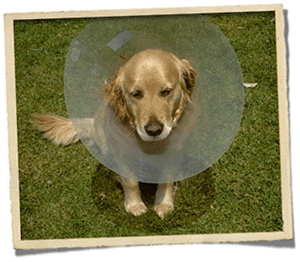 Then in March this year it grew back. I didnt worry too much at first, as last time it was just a cyst, but then almost overnight it grew so big it started bleeding. Back to the vet. My vet Mary said as it had grown back like it did, it was probably cancerous. 1 in 100 if they come back its cancer. (just our luck!). So another operation. This time the cut was almost around her whole neck, about 100 stiches, 4 drains as the cancer was also under her neck. Susy never complained once, no matter how many needles or stiches they put in her, not even a whimper... It was 2 weeks till Mary had the results, as the disease is so rare, they had to do a lot of searching, and in 35 years as a vet Mary had not seen it before. Hystiocytosis...
We were told without chemo, she would live maybe 4 months. Wow she's so healthy, she doesnt look sick at all. She was also a bit aneamic, but liver and good meat helped with that. We went home to think about what to do. As I'm a single mum and not at all rich, I decided that I would not be able to do the chemo. I cried for a week, feeling like a bastard. But talking to other people, they said how sick the chemo could make her, and quality of life was better than quantity. How do I explain that to Susy??????? So after a lot of internet reseach on Shelly's site, it looked like the dogs that had chemo didn't live much longer anyway and were quite sick. 
So back to the vet we went. I told Mary what I'd researched and said I didn't want to do the chemo. She said you know the difference with susy is that she had her tumour removed, all her platelletes are good, her aneamia is gone, I think she would be a good candidate for chemo. Now I was feeling really bad, I just could not afford the $3000.... What do I do? do I get a loan?????????
I said Mary I just can't afford to do it. She said you know what, we have a special fund put aside for special cases and I think Susy is a special case, we would like to pay for it. 
I couldnt  believe what my angel vet Mary was telling me, so now there is hope for Susy, and who knows she may even be the first dog to beat it!!!!
So Sus starts her treatment this week. Mary said if it knocks her around too much we can always just stop it.
So that's Susy's story so far. I will keep you updated with how she goes.
UPDATE August 30, 2007
Susy's been really well, she has 3 rounds of chemo (CCNU, tablet form) once a month and prendisolone every 2nd day which has made her fat!!!!!!! Mary says thats ok, all golden retrievers are fat! She has only been a bit off twice, and you wouldn't ever know she has cancer.
Just before her last chemo, she had a few tests, liver , kidney, spleen, all bloods. All came back good.
Everyone is amazed.
So we will just keep doing what we are doing and all going well, she will be with us for quite a while yet, She turns 9 this november.
SAD UPDATE February 5, 2008
Today Susy didn't look herself, I noticed, in the last few weeks, she was lacking energy. But it's summer and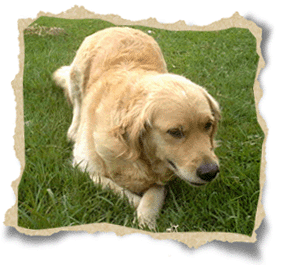 had some really hot days, she kind of just lied around all day. But today she refused to eat a smacko (her favourite treat). When I got home from work she was sitting in the rain. I called her inside and dried her off and wrapped her in a blanket. I noticed her tummy was quite big, but as shes been on prendisolone, she was fat anyway, but I really noticed as she was wet. I called the vet, they said bring her right in. She wouldn't walk to the car, we carried her. Then they carried her inside the vets. Mary took one look and said oh no, she's very swollen, might be her spleen or liver. Also her blood pressure was so low, they could hardly get any blood out of her. How could this happen so fast? They said they would operate. If it was the  spleen, they can take that out, but if the liver, they thought best if they leave her asleep.
I was advised to call in the family, so I did. The kids came and their friend Chris, who Susy loved I think more than us. She was on a drip by now, so she was feeling a little better. They put us in a room together to spend time with her. She seemed really happy, wagging and talking, sitting on our laps. After an hour, they said it's time for her operation. We said goodbye, she tried to come with us, smiling and wagging her tail, my heart broke......
We went home... An hour later Mary rang and said it's not good news, it's not her liver or spleen, but a tumour in her kidney the size of a football. I said what should we do? She said I think we should leave her asleep.
From here on there are no words to describe how we felt.
She has left a huge hole in our world. We miss everyhting about her, nothing is the same.
And no more dogs for us.
She had a lovely burial and is safe and with us in our yard. We will make a beautiful garden on her.
We miss her sooooooooooo much! 
Our sooky puppy Susy
Thanks everyone
Lisaxxxxxxxxxxxxxxxxx