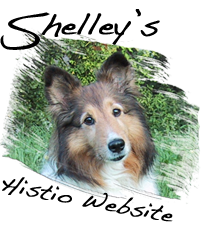 HOME

To the ENGLISH website

Naar NEDERLANDSE website

Contact me
YOUR HISTIO STORY
I am looking for similarities
in all individual cases of
Histiocytic diseases.
I wonder if we all tell our
stories we might come up
with some commonality
between the specific
situations in which all of
our pets got this disease.
So please email me the
details and I'll put your
pets story on Shelley's
Histio Website
UW HISTIO VERHAAL
Ik ben op zoek naar
overeenkomsten in alle
individuele gevallen van
Histiocytose.
Ik hoop dat wanneer wij
onze Histio verhalen
vertellen, wij overeen-
komsten ontdekken over
de manier waarop onze
huisdieren deze ziekte
hebben opgelopen.
Stuur mij de details en
ik zal het verhaal van uw
huisdier op de Histio
website van Shelley zetten.
WARNING !
These stories are all
different. Individual
symptoms, situations
and circumstances
may vary and response to
therapy is not always the
same.
- Disclaimer -
WAARSCHUWING !
Deze verhalen zijn allemaal
verschillend. Individuele
symptomen, situaties en
omstandigheden kunnen
verschillen en de reactie
op therapie is niet altijd
hetzelfde.
- Disclaimer -

HISTIOCYTOSIS IN
OTHER LANGUAGES
German - Hund
Maligner Histiozytose
French - Chien
l'Histiocytose Maligne
Italian - Canis
Maligni Histiocytosis
Spanish - Perros
Histiocitosis Maligna
Dutch - Hond
Maligne Histiocytose
HOME
Trinity Leeanne Lovelace
Histiocytic Sarcoma
Miniature Schnauzer
Female
? / April 15, 2010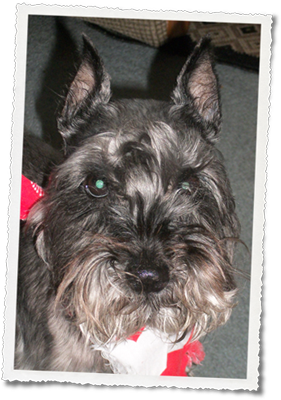 Story submitted by Cindy and Robert L.
On April 15, 2010, we lost our beloved Miniature Schnauzer Trinity Leeanne Lovelace, to what we now know was Histiocytic Sarcoma . She was 12 years and 8 months old.  We only found this diagnosis out after her death when her major organs were removed for testing.
 
We noticed that our Trinity had lost a little weight and was becoming slower back in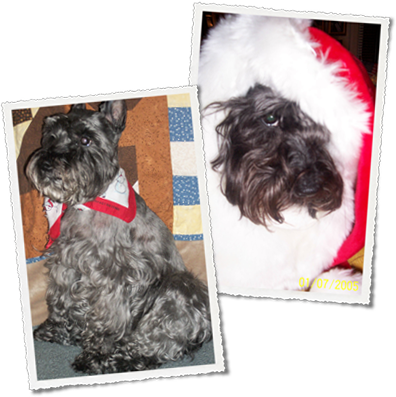 January of 2010. No other symptoms.  We attributed this change to her age.  We then noticed a lump on her left shoulder of which we had checked on March 1st.  The vet biopsied it and 'saw cells', but not being a pathologist, he could not make a definite diagnosis, so he recommended its removal for further testing.  Upon receiving Trinity's blood work results, it showed that her red cell count was very low and her white cell count was very high.  They said she's apparently losing blood and has an infection, but didn't know why.  Surgery at this time was not an option because she probably would not survive given her blood counts and her age.  So she was put on antibiotics and iron medicine.  Two weeks later, more blood work revealed that her red cell count was lower and her white cell count was higher.  Her kidneys tested fine, stool tested fine, urine tested fine, and no parasites present.  So more, stronger meds were given.  They wanted to do an exploratory surgery to go inside to see what was going on, but that wasn't an option either because of her extreme abnormal blood counts.  For six weeks we were in and out of the vet to try and determine what was going on with our Trinnie Girl.  More meds and even more lower red cell counts and higher white cell counts each time. She never whined or cried like she was in pain and she continued to eat although she no longer was eating her dog food.  She simply grew more tired and weak.  She seemed to want 'people food'; mainly red meats, of which we gave her.  A week before her death, after a visit to the vet, we were asked to come back the next day so that a retired vet could come in and take a look at her.  He basically said they were all 'stumped' as to what was wrong and that Trinity was apparently throwing them a 'curve ball'.  Four different vets were confused at her tests and they stated that 'there were a lot of dots, but none of them were connecting'.  We were sent home with 'Pet Hospice' and given 'maybe a week' with her.  A blood transfusion might buy her another week but because she would be receiving white cells (which she did not need), she'd probably not make it.  Surgery of no kind was a option.  After an x-ray and an ultrasound, it was found that Trinity had a mass on her liver, but it could not be determined what that mass was because blood work denied surgical options.  Only a week before her death, Trinity began running into things, although she could still walk.  She passed away on a Thursday; but was still eating and walking around (even to go outside and potty) up through the Tuesday before.  Trinity only experienced a few minutes of distress before her death, where her body began releasing its fluids/stool.  She whined ever so briefly.  After a few minutes, she lay back down and her breathing remained the same for two more hours after that. She passed away peacefully and calmly on Thursday morning April 15, 2010 at 2:21 am, with me and her daddy by her side in our bed.  She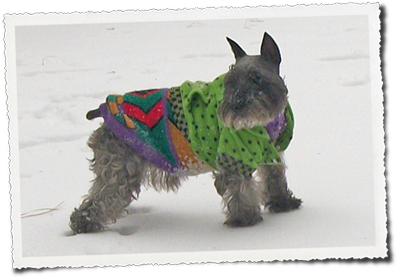 looked up at me, put her head back down, then stopped breathing.  We were so blessed that she did not suffer and that we did not have to 'put her down'!!
 
We wanted to donate her body to science because we felt that no owner should be sent home with their animal and told they are dying but without a diagnosis as to why.  This experience was absolutely horrible and this was one of the hardest things we've ever had to go through. There is not a veterinary science school in the state of NC that takes deceased animals that they have not seen prior to death.  NC State's vet school did agree to test her organs to determine what was going on.  After Trinity's death, the vet took out part of every major organ at which time he determined was full of cancer.  We received news today (one week after our precious girl left us) that Trinity had Histiocytic Sarcoma, which had viciously attacked her liver, lungs and even her heart.  We were told that cancer rarely gets into a dog's heart, but that's exactly where it had to go to stop our Baby Girl.  She has become our Hero in her death.  And we hope that all the vets that have seen her have gained some knowledge that will be useful in treating and diagnosing other animals so that their owners will not have to go through what we have experienced.  Something needs to be done about this terrible disease and none of our pets (family members) deaths should ever be in vain.  We are willing to do whatever we can to help further the technology of a diagnosis and treatment for this rapidly and silently killing cancer!!


To our Histio website in English

Naar onze Histio website in het Nederlands

Be sure to seek the advice of your veterinarian about any question you may have
regarding your pet's health and behavior.
No diagnosis can be done without a veterinarian actually seeing and examining the patient.
DOG OWNERS SHOULD REPORT ALL CASES OF HISTIO TO THE BREEDER AND THE BREED CLUB!