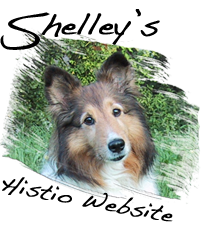 HOME

To the ENGLISH website

Naar NEDERLANDSE website

Contact me
YOUR HISTIO STORY
I am looking for similarities
in all individual cases of
Histiocytic diseases.
I wonder if we all tell our
stories we might come up
with some commonality
between the specific
situations in which all of
our pets got this disease.
So please email me the
details and I'll put your
pets story on Shelley's
Histio Website
UW HISTIO VERHAAL
Ik ben op zoek naar
overeenkomsten in alle
individuele gevallen van
Histiocytose.
Ik hoop dat wanneer wij
onze Histio verhalen
vertellen, wij overeen-
komsten ontdekken over
de manier waarop onze
huisdieren deze ziekte
hebben opgelopen.
Stuur mij de details en
ik zal het verhaal van uw
huisdier op de Histio
website van Shelley zetten.
WARNING !
These stories are all
different. Individual
symptoms, situations
and circumstances
may vary and response to
therapy is not always the
same.
- Disclaimer -
WAARSCHUWING !
Deze verhalen zijn allemaal
verschillend. Individuele
symptomen, situaties en
omstandigheden kunnen
verschillen en de reactie
op therapie is niet altijd
hetzelfde.
- Disclaimer -

HISTIOCYTOSIS IN
OTHER LANGUAGES
German - Hund
Maligner Histiozytose
French - Chien
l'Histiocytose Maligne
Italian - Canis
Maligni Histiocytosis
Spanish - Perros
Histiocitosis Maligna
Dutch - Hond
Maligne Histiocytose
HOME
Zeus
Malignant Histiocytosis
Rottweiler
Male
May 1996 - April 3, 2006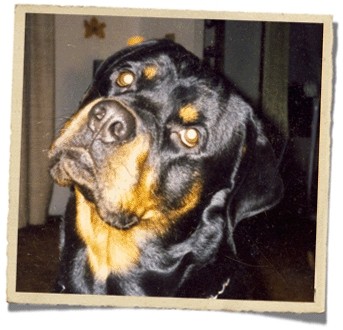 Zeus was born in May 1996. I always had dogs as a child, but Zeus was MY first dog. He was a Rottweiler, we always had Labs. I had to be different, and so was Zeus.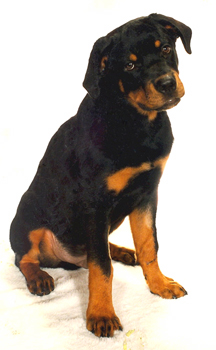 When Zeus was 6 months old, even though he had all of his shots, he got the parvovirus. I was devastated. It was amazing to me that even in a short period of a few months I could become so completely in love with this dog. He was in the hospital for a little over a week. The vet's office opened at 7 am and I sat there in his little cage in isolation for an hour before I went to work, I spent my lunch hour in that cage, and the hour after work until the vet's office closed. He was pitiful, but he survived.
Zeus. So smart. So perfect, huge head, strong muscular body. From the time he was a puppy until recently when he got sick he always had to bite my feet with my shoes on. I don't think I own a pair of shoes without his teeth marks on them. He has always had a kiddie pool that was his and his alone, no other dogs could share it, only Mom. When I first got Zeus we lived in the upper level of a very large duplex. The apt. had a back porch that the roof sloped down on. One day Zeus decided to see what was on the other side of the roof. From that point on one of his favorite things to do was to walk over the roof to see what was going on in the world. It scared me at first but he was careful to stay away from the edges and he was sure-footed. He never went on it in the winter. I would see people drive by and laugh & point. Of course some people were scared, they didn't know what a nice dog he was. One person thought he was a pit bull. I can't tell you how many people stopped to say "Do you know you have a Rottweiler on your roof?" I'd always say "Yes, he likes it up there" Eventually we had to move because my landlord discovered I didn't have a small dog. It was difficult because no one wants to rent to someone with a dog, much less a Rottweiler, but we found a house with a big yard and lived there happily for a few years. After awhile the neighborhood started to get a little rough and I decided it was time to buy Zeus a house with his own yard. By this time I was also blessed (? Sometimes I wonder) with Zeus's son, Q, (don't ask, I didn't name him). So Zeus, Q and I found a nice house in a nice neighborhood, the yard was small but it didn't matter, they weren't outside dogs, they wanted to be wherever Mom was. We took long walks together. Zeus could even spell W-A-L-K. We sat on the porch together and watched the world go by. No matter where we lived, Zeus's favorite place, besides by my side, was the porch.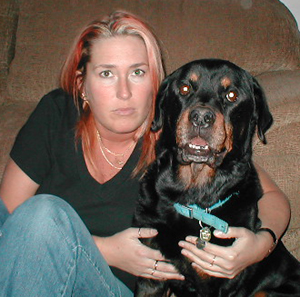 In January 2006, I noticed a small lump on Zeus's back between his shoulder blades. I took him to the vet and we scheduled his surgery for January 19th. A few days before his surgery, he lost interest in his food. I gave him some canned dog food, and for a few days he ate that. He had his surgery; he was groggy, but fine. The vet told me the biopsy results would be in a few days, but it took 6 weeks for them to come in. Part of me didn't want to know. He had stopped eating the canned dog food so I switched to chicken. That worked for a while, then I switched to ground beef, and so on. On February 25th I found out he had a malignant cancer and there was no way to treat it. In the last few weeks he lost a lot of weight. His spine was sticking out and his back legs grew weak. He was laying on his back one day and I felt it a large tumor that I knew was responsible for what was happening. By the way he was acting I knew it was a death sentence. On March 25th, I found out it was MH. I showed the vet where I felt the tumor and he felt more. He said the cancer had manifested into his liver and there was nothing we could do. I did a search to find out what it was that was taking my best friend from me, and I found this site. I was looking for information and found so much more. I am so touched by the stories here. Sometimes when you are so engulfed in your own pain you forget there are others who have lived it, understand it. In his last 2 weeks, Zeus vomited daily and grew weak. I spent our last days holding him & thanking him for being so good to me. I've been through some hard times; Zeus was there for every tear, sticking his head in my face, lifting up my chin, giving me kisses. People talk about how dogs love unconditionally and it's so true. He was never my "dog", he was my son.
Aside from the last pages of our life together its been a great story. I wouldn't trade a day. I love and miss him so much. The pain is so deeply indescribable. I fear for his son, I don't know if this cancer if hereditary. I pray that more will be known about this cancer and that there will be a way to treat it some day, and I thank Mo for getting the information out there and giving us somewhere to share our stories.
Thank you for listening, and I am so deeply sorry for those of you who have lost your precious family members to this.
If there is no heaven, I want to go where dogs go when they die.
Kris K.

To our Histio website in English

Naar onze Histio website in het Nederlands

Be sure to seek the advice of your veterinarian about any question you may have
regarding your pet's health and behavior.
No diagnosis can be done without a veterinarian actually seeing and examining the patient.
DOG OWNERS SHOULD REPORT ALL CASES OF HISTIO TO THE BREEDER AND THE BREED CLUB!