Bloodcurdling!
FIRST AID IN CASE OF A HEATSTROKE OR SUNSTROKE
by Mo van den Tillaart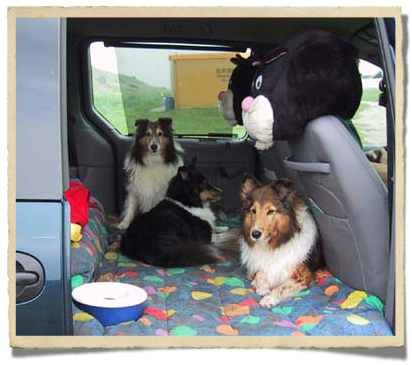 When the temperatures are warm and your dog has to wait in the car, people usually open the car windows for fresh air. They heard horrid stories of dogs that suffocate while waiting in the car and think that they can prevent this from happening by opening the windows. But even leaving all windows open - as wide as it can be - will not allow sufficient airflow through the car to cool the dog. In fact, the danger for the dog, is not a lack of fresh air, but the high temperature. A car that is parked in the sun turns into a convection oven. Even on a relatively cool day of 75°F, the temperature in an enclosed car can soar to 120°F or more in just a few minutes. These high temperatures cause the dog's blood to clot and thus the oxygen cannot reach the internal organs. This may cause irreversible damage to organs, like the kidney's, liver, bowels, heart and also the brain. The dog will get into a shock and die.
So NEVER leave your dog alone in a car. Take no chances, the risk is just too high!
Be aware: the risk is just as high when you leave your dog in a tent, trailer, caravan, doghouse, etc...
Signs
Signs of a heatstroke may include excessive panting and increased salvation, pale gums, hyperventilation, vomiting and diarrhea. You may have a problem to get your dogs attention and he may be weak and confused. If your dog is exposed to the heat too long, he might suffer seizures and possibly go into a coma and die...
Treatment
If you suspect a heatstroke or sunstroke in your dog, you must seek veterinary attention immediately! You can effectively initiate treatment like bringing your dog to a cool place and use cool (not too cold) water to cool down your dog. Mind you, very cold water might cause constriction of the blood vessels and therefore impede cooling. You can put him on a wet towel to help the cooling. Don't cover him with a towel cause it will acutally inhibits evaporation. Try to encourage your dog to stand or even walk, to keep the blood flowing. Keep cooling until the dog appears to be OK and bring him to the vet. You can offer him small amounts of cool (not too cold) water during your trip to the vet. Don't assume everything is fine, for internal organs such as kidneys, liver, bowel, heart or the brain can be affected by the high body temperature. Secondary complications like that can be fatal. So it is of utmost importance to seek veterinary attention immediately.
Prevention
* Never leave your dog in the car (not even with all windows open!).
* Your dog must always have fresh drinking water.
* Your dog must always have access to a cool and shady place.
Be sure to seek the advice of your veterinarian about any question you may have
regarding your pet's health and behavior.
No diagnosis can be done without a veterinarian actually seeing and examining the patient.

Feel free to link to this page.
Do not reproduce this page on the internet.
You may link to it instead.