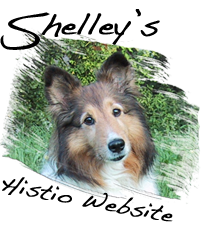 INFORMATION
Dutch pages
Contact
Links
Disclaimer
DOGGY WISDOM
Euthanasia
Lyme disease and Shelby
Puppy Mills
Reverse Sneezing
Second Hand Dog
Heat stroke in dogs
HISTIOCYTOSIS
Histiocytosis in Dogs
Histio Patient Stories
Survey Questions (download)
Histio Survey Report
Our Website on Facebook
IMMUNE SYSTEM
Immune-mediated diseases
Autoimmune disease
SHELTIES
Corky
Phoebe
Pedigrees
Photo & Video Archives
Rainbow bridge
Animals and the Afterlife
Sheltie Art

Reverse sneezing
by Mo van den Tillaart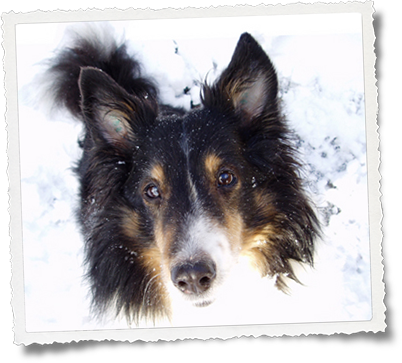 Reverse sneezing (Pharyngeal Gag Reflex) is a sudden, rapid and extreme forcefull inhalation of air through the nose causing the dog to make repeated snorting noises, which may sound like he is choking. It sounds like the dog is trying to inhale a sneeze, and it is therefore known as reverse sneezing.
Reverse sneezing is often caused by irritation of the the palate/laryngeal area. It causes a spasm in the muscles of the pharynx. Reverse sneezing is characterized by honking, hacking or snorting sounds (gasping inwards). It primarily occurs when the dog is excited, but it can also happen after drinking, eating, running, or pulling on the leash.
A typical episode lasts only a few seconds, but some dogs may experience this for a few minutes and usually several times a day. Most of the time you can stop the spasm by gently massaging the throat of your dog, or briefly closing it's nostrils until the dog swallows.
In some cases reverse sneezing is caused by foreign bodies in the nasal passage (grass blades), irritation from allergies or irritants (pollens, smoke, perfumes), or even tooth root infections. In those cases you should always consult a vet. If the dog is having repeated attacks of reverse sneezing, your vet may prescribe antihistamines to see if that helps stop the sneezing. When reverse sneezing occurs right after the nose-inoculation against kennel-cough, it would be advisable to give the dog some antibiotics.
Most dogs that have infrequent episodes of reverse sneezing, can lead a perfectly normal life, cause reverse sneezing is a harmless condition and medical treatment is not necessary. Although it is important not to confuse reverse sneezing with a collapsing trachea or a heart problem. In case of doubt, it is important to have the dog examined by your veterinarian.

Click here for a 'reverse sneezing' YouTube video. This is just one of the many examples on YouTube, so I advise you to browse YouTube for more.
Be sure to seek the advice of your veterinarian about any question you may have
regarding your pet's health and behavior.
No diagnosis can be done without a veterinarian actually seeing and examining the patient.

Feel free to link to this page.
Do not reproduce this page on the internet.
You may link to it instead.