Lyme Disease and Shelby
Sheltie (Shetland Sheepdog)
Female
March 1, 1991 - February 29, 2004
by Carol Bargeron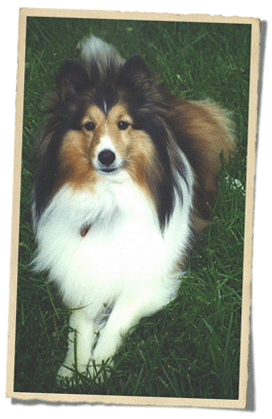 I found this site after losing my beloved friend, Shelby. The site and Mo helped me to deal with my grief. They taught me that our dogs are never gone from us, but continue to watch over and love us. As a coincidence, Shelby and Shelley share the same sire, Jade Mist Timestopper.
Shelby was a wonderful addition to our home. She adored Mike, my husband, and they shared a very special bond. Having no children ourselves, she became our child and my mothers' first grandchild. She was a part of our immediate and extended family.
Anyone who has a Sheltie knows that they are full of personality and energy, they can command a room full of people easily. Shelby was no different, she entertained us and loved us. She taught us how to be unselfish and the meaning of unconditional love.
The pillow in Mike's office says it all
My goal in life.... is to be the kind of person my dog thinks I am
Shelby passed away 2/29/04. She would have been 13 years old the next day. The surface cause of death was edema. However, we believe that the underlying cause was Lyme.
Looking back at blood work done, it appears that Shelby was bite by a deer tick sometime between March 1994 and June 2001. Tests done in June 2002 confirmed the disease. In 1996 she had a spell of lameness and vomiting. She was also running a slight fever. The vet prescribed a course of antibiotics and Reglan. She recovered very well. As the years went on there were signs I am sure that we overlooked. Our dog was getting older and we attributed much to the aging process. However, in June 2002 she was suddenly lame again. There was significant change in her appetite and general attitude. She also began to cough, several times a day. The vet tested for all sorts of problems, including the West Nile Virus. All came back negative. Then they tested for Lyme, she was immediately put on a month's course of antibiotics. She seemed to come out of that very well. By now it was also beginning to be clear that her kidneys' were in trouble. We reduced the amount of protein that she was getting in her meals and increased her exercise.
Shelby maintained fairly good health until mid 2003. The attacks of lameness went from twice a year to once a year and we were encouraged. We added glucoseme to her diet, along with her vitamins. In November, 2003 she took a dramatic turn for the worse. She became lame and refused to eat. Due to the kidney failure, she now had an ulcer which removed any desire for food. She was put on Pepcid and Reglan and began water treatments at the vets office. We eventually did those treatments at home 2-3 times a week.
The last two months of Shelby's life was, I am sure, a challenge for her. She kept her spirits up and never quit. We did whatever was necessary for her survival, but we just couldn't save her.
I am convinced that if we had paid more attention to the joint pain so early on, that we could have taken steps much earlier to track her kidney, heart and liver functions.
Below is a list of what we think the early warning signs can be, we know there are many other reasons for these to occur, but with blood work and an 8 minute Lyme test you can be sure.
Early warning signs of Lyme Disease
Limping - for no reason at all
Joint Stiffness - trouble standing or hesitation sitting
Loss of appetite
Rash
Open wound
Coughing
Shelby was loved and owned by Carol and Mike Bargeron.
Click here to visit Carol's website for the annual Jade Mist Shetland Sheepdog Jamboree


Clinical Name: Lyme disease
Overview
Without treatment, Lyme disease causes problems in many parts of the dog's body, including the heart, kidneys, and joints. On rare occasions, it can lead to neurological disorders. Lyme disease most commonly is associated with symptoms such as a high fever, swollen lymph nodes, lameness, and a loss of appetite.
Dogs get Lyme disease from a tick that passes the Borrelia burgdorferi bacteria into the animal's bloodstream when it bites. The tick must remain attached to the animal's skin for at least one day before the bacteria can be transmitted.
The ticks, called Ixodes or deer ticks, generally are found in specific regions of the United States: the northeastern states, the upper Mississippi region, California, and certain areas in the South. Like dogs, people can suffer from Lyme disease-they, too, catch it from ticks carrying the infection. Infected dogs do not transmit the disease to humans. For both canines and humans, the illness is treated by antibiotic medication.
Clinical Signs and Symptoms
Fever, lymphadenopathy, lameness, anorexia, myocarditis, inflammatory joint disease, glomerulonephritis, and in rare circumstances, neurologic disease.
Diagnosis
The veterinarian may be able to determine if a dog has Lyme disease after performing a blood test that will show exposure to the Borrelia burgdorferi bacteria. In previously vaccinated dogs, a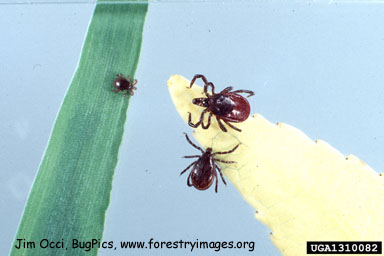 special type of blood test must be performed to differentiate between the vaccine and actual exposure to the organism. Unfortunately, these tests do not provide a simple yes or no answer. The veterinarian must evaluate the results along with the dog's symptoms, and take into account whether the dog has been in an area of the United States where Lyme disease is endemic, such as the northeastern states, the upper Mississippi region, California, and certain southern states. A positive response to treatment is also important in making a final diagnosis.
Description
Lyme disease is caused by a bacteria called Borrelia burgdorferi, which is passed to dogs through a bite from the deer tick. The tick must remain attached to the dog's skin for one to two days before the bacteria can be transmitted.
Lyme disease can be a multi-systemic illness, with signs that may include fever, swollen lymph nodes, lameness, loss of appetite, heart disease, inflamed joints, and kidney disease. Disorders of the nervous system, while uncommon, may occur as well.
A vaccine is available to prevent dogs from developing Lyme disease, although some controversy exists regarding its use. An owner should consult with a veterinarian for vaccine recommendations.
Transmission or Cause
Lyme disease is caused by Borrelia burgdorferi, which is passed to dogs and people by deer ticks carrying the infection; the ticks get the infection from the white-footed mouse, which acts as a carrier. The only way a tick can transmit the bacteria is to remain attached to the animal's skin for one to two days. Unfortunately, these ticks are very small and easily can go unnoticed.
Treatment
Treatment involves the use of an appropriate antibiotic, such as doxycycline, for at least three to four weeks.
Prognosis
Dogs should begin to show signs of recovery two to three days after beginning treatment. However, the disease may recur within a few weeks or months; in these cases, the dog will need to return to antibiotic therapy for extended periods.
Prevention
There is a vaccine for the prevention of Lyme disease. Quick removal of a tick also will help prevent Lyme disease because the tick must remain attached to the dog's body for one to two days before the disease can be transmitted. Consult with a veterinarian about the different tick prevention products that are available, as they can be an effective way to prevent the disease.
Be sure to seek the advice of your veterinarian about any question you may have
regarding your pet's health and behavior.
No diagnosis can be done without a veterinarian actually seeing and examining the patient.

Feel free to link to this page.
Do not reproduce this page on the internet.
You may link to it instead.