When Shelley was one year old, Leo didn't play with her anymore and so we decided she needed a playmate. It so happened that our friends in Clovis, CA had a litter of Shelties. One of the pups was a pretty tri-color female and as she was born in April, we called her April. She is Shelley's half-sister (same mom).
April came to the Netherlands at 7 weeks old. She adored George and ignored me. Mind you, she liked me well enough if George was at work, but when he came home, I was part of the furniture as far as April was concerned. George was the center of her universe, her Master, her everything. And I was the one who walked and played with her during the day and filled the food dish when he wasn't home. Only after Shelley died, April and I bonded.
 
When Shelley had her puppies, April was the perfect Auntie. She was super interested in what was going on in the whelp box and loved to play with the puppies. She was a devoted canine nanny! But when she had her own puppy, things changed. She wasn't interested at all and let Shelley mother the pup most of the time. It provided Shelley with many hours of useful employment and harmless fun. And April was happy to share the duties of parenting. If Shelley wanted to babysit, power to her!
 
Our April was quite a barker. She barked at everything but only when she was standing at a safe distance. She was a true Sheltie, for she would greet you at the door, talked to you, and if you reached out to pet her, she would duck and back up. It really frustrated some humans, me included. But that is just how some Shelties are.
 
When April was still a puppy, our cat Minouschka was still alive. As cats usually do, Minouschka would frequently lie on top of the back of the couch. April copied this behavior and could often be found in the same position. My artist friend Angelique immortalized this in a beautiful painting.
 
April was a hyper active doggy. Until a month before she died, she was running and bounding about as if she was still a puppy. After Shelley passed away, April got bored. She'd stay in her bed only to come to me when it was time to walk or eat. So I started training her again. A dog is never too old to learn new tricks. I knew she could easily pick up trails, for that is what she did without being ordered. We first noticed that on the beach. When we walked back to the car, we always saw her sniffing our footsteps. Especially George's! I think he's got smelly feet! So every time I walked the dogs ater Shelley died, April had to find something I hid for her. And she was good at it! And, most important, she loved to do it. She'd get real excited and barked, barked, barked a lot. But it was a lot of fun so see a dog of her age being so excited and busy. I'm glad I was able to give her something to do, to prevent her from being bored.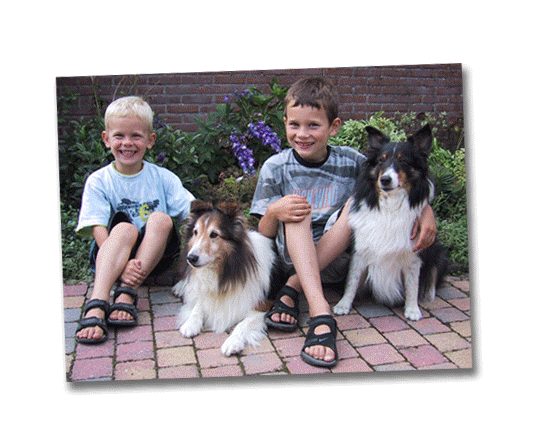 During her time here on earth April had quite a view surgeries. She developed many skin tumors (basal cell carcinoma) and 2 breast tumors, for which she was operated several times. After her penultimate surgery, it took her two whole days to fully wake up from the anesthesia. She did recover, but it took a long time. We thought it was due to the difficult, long surgery and her age. Hindsight tells us something else though :(
In Spring of 2005 we noticed that April couldn't climb the stairs like she used to. She had difficulty taking the steps. As she was 14 years old it could be age related, but we wanted to be sure. X-rays showed a hernia and a worn spot in her spine, but also a tumor the size of a tennis ball on her spleen. She had an emergency splenectomy. During surgery the spleen ruptured and she lost a lot of blood, but the spleen was removed successfully and she survived the surgery. But from then on our lives changed. Our perpetual puppy became an old lady. After the surgery she was given dexamethason. But instead of getting better she got worse. As we didn't know why, the vet prescribed more dexamethason. Things didn't improve so she was given even more dexamethason. We tried everything to get her on her feet.. but nothing helped and she had a couple of strokes and could hardly stand on her feet. Things gradually turned for the worse and in the end we had to carry her outside to do her business. She wasn't happy any more, she even stopped barking (!) and secluded herself from us.. So the only thing we could do for her, was to help her cross the rainbow bridge.
Only 5 weeks after we lost our Sunny, we had to say goodbye to our sweet little April, we helped her cross the bridge on June 3, 2005. We stood on one side of the Bridge and watched her go, leaving behind her beautiful shell. She gave us constant companionship, a love of life, and an entirely new world. In the end, we gave her peace and set her spirit free to be our forever dog at the rainbow bridge.
1 year after she died we found out that Shelties are prone to a genetic defect called MDR1 mutation. MDR1 is short for a gene called Multi-Drug Resistance 1. A mutation of this particular gene causes sensitivity to several medicines. Dogs with two copies of the mutation will have adverse drug reactions. But dogs with a single copy can also have sensitivity to some drugs. This MDR1 gene mutation is a transport defect, which means the medicine goes into the brain but fails to be transported out through the body, and builds up to toxic levels in the brain causing serious neurological problems like seizures and strokes and even death.
Click here for a list of medicines that can cause reactions in dogs with the MDR1 mutation.

In Europe we have to add a couple more drugs to the list: Dexamethason, Chinidine, Ebastine, Grepafloxacine / Sparfloxacine.
So the dexamethason given to April is on the European problem drug list for the MDR1 mutation affected dogs. April's symptoms and everything that happened are exactly what can happen in MDR1 affected dogs, so now I know for sure she had the MDR1 mutation. If only I had known that in time!!! But knowing this now, I made sure to test both Corky and Phoebe and I am VERY happy to say that they are both MDR1 CLEAR - Genotype: N / N [ Homozygous normal ]
Our lives will never again be as rich without April's presence daily. Like all our departed dogs she loved us more unreservedly and undistractedly than humans are capable of. We can never match her zen-like devotion to us. The pain is strong but the comfort we have --besides the beautiful and irreplaceable memories and hundreds of wonderful photo's-- is the assurance deep in our hearts that she loved us beyond all else. And we love the spirit of our sweet April beyond words.
And we know that when we go the seashore, we will 'see' her pawprints in the sand, always in front, always leading, and on the way back always trying to find our footprints. Live on, dear April, in the waves that find the shore, in every beautiful sunset ...and in our hearts... forever...
Mo and George
In Loving Memory of April