Minouschka
White Turkish Angora
Female
September 5, 1977 - August 26, 1991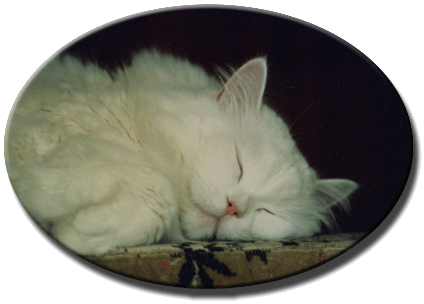 When I moved out of my parents house in 1978, I was accompanied by a beautiful white Turkish Angora. Her previous owner was going to have a human baby and worried about health risks so she put this sweet little creature up for adoption. Minouschka was only 3 months old at the time! I was lucky that our paths crossed and that she decided to grant me the job of taking care of her. She had a wonderful, lovable character and was a real lapcat, very affectionate and always able to lift my spirits when I was sad.
I didn't want my cats to fall in the hands of a cat-killer, which is rather common in the Netherlands, so we made them a fenced area in the backyard. They could enter that thru a doggy door. Apparently birds could enter that area as well, which was not at all good for their health. Minouschka was very successful in catching birds in her area! She killed them and came back in the house to offer them to me as a gift. One day I was upstairs, so she dragged the unfortunate bird through the house, leaving a bloody trail. She had red streaks of blood through her white fur. Needless to say I was horryfied by this sight. I accepted her gift and burried the poor thing in the garden. I thanked Minouschka for her efforts with a nice warm bath, which believe it or not she didn't appreciate at all!
Minouschka got considerably weirder with age. Maybe it was kitty dementia. She had never climbed the curtains before, but when she got older she started doing that. Likewise she suddenly stole stuff from the kitchen countertop... It was kind of funny to see her being naughty :)
Minouschka died in 1991 of kidney failure.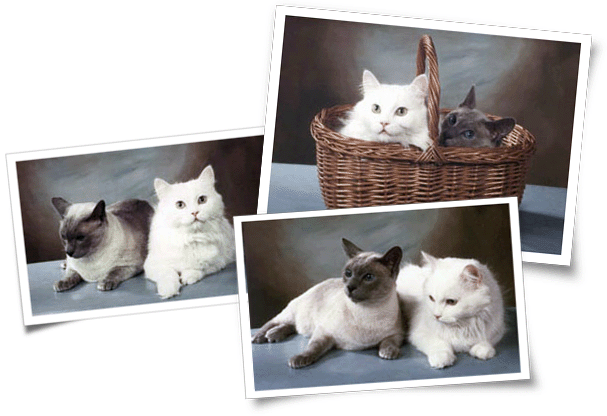 Minouschka (White Turkish Angora) and Brutus (Blue Point Siamese)